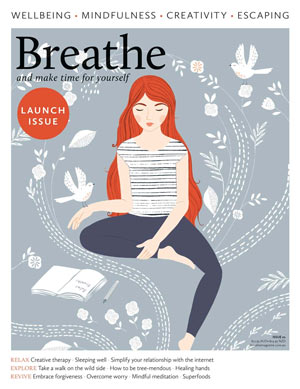 Issue One of Breathe Magazine Australia, the body-and-soul guide to a happier, healthier you, is in store now and it's packed with wellbeing wisdom.
This issue of Breathe explores the modern miracle of mindfulness, shows you how to guarantee a good night's sleep (the ultimate mind, body and spirit tonic!) and offers tips on decluttering and letting go.
Learn how to regain precious time away from technology with our helpful guide on simplifying your relationship with the internet, embrace the steps to forgiveness and discover eight ways you can express gratitude to truly connect with the people you love.
Unleashing your inner artist could be your key to a better state of mind. Get crafty with our specialty pull-out paper with step by step craft guides to make your own origami bow and paper crane, or craft a letter to someone special using our letter and envelope templates.
Want to know why bowls are the new plates in 2017? Reconnect with the food you are eating by joining the bowl food trend with our delicious and nutritious recipes. We'll also introduce you to ten superfood ingredients that will inspire your next meal and boost your health.
And if you still feel the need to get away from it all, you can lose yourself in our hand-picked selection of Australian & New Zealand escapes with the most breathtaking vistas.