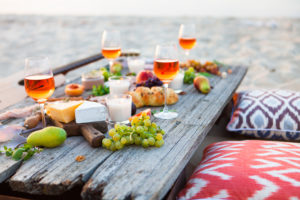 Mixing your routines up a little can have a positive impact on your wellbeing.
Ditching the routine and acting on impulse has been shown to provide happiness, benefit wellbeing, and can even unleash a sense of wonder in the everyday. Sometimes we can get so caught up in the box of our day-to-day life that we forget to embrace opportunities for doing things differently. Here are some simple ways to throw your plans to the wind and live life outside the box…
1 Jump on a bus and see where it takes you
Don't overthink it, just walk to your nearest stop and step on the first bus that arrives. Try and find a seat by the window and focus on the journey. You might be surprised by things you observe on your way that you've never noticed before. Enjoy the ride for a few stops and see where you end up.
2 Watch the sunset
After a busy day at work, it can be tempting to down some dinner on the couch while watching Netflix. For change of scenery, why not grab some friends and head to a nearby park or beach with some nibbles to watch the sunset?
3 Go for a hike under a full moon
Pick a route you know well, set out just after dark and use the light of the moon to guide you. It's amazing how much more attention you pay to things at night than you would during daylight – your senses are heightened, and you'll hear new sounds and notice fresh smells.
4 Stranger things
Trying to get to somewhere new? Ditch the map and navigate solely by asking kind strangers – a shopkeeper, a person reading their paper on a bench or standing in a queue. Asking directions is one of the best ways to start a conversation with someone you've never met and talking to people you don't know can take you into the unknown.
5 Take a trip down memory lane
Travel between two places that mean something to you. Your childhood home to your partner's, for instance. Or the location of your first date to the place where you married. Walk, cycle, run or go by train – however arbitrary it might seem, if you have a reason to go there, you're more likely to stay inspired and stick with it.
6 Sleep outdoors
Invest in a good sleeping bag, a mat and a swag or small tent and you have all that you need to have a starlit soirée in your own backyard. If you don't have the luxury of a garden, make a plan to escape to a camp site for the weekend. Fall asleep to a different soundtrack – birds settling in the branches overhead, animals scuffling in the undergrowth – and wake to a fresh breeze and a feeling that anything is possible.
This article was originally published under the title 'Just do it' in Issue 12 – Set forward