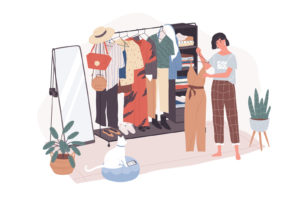 A former hoarder and fast-fashion addict shares her newfound love of a more minimal wardrobe
It's a universal truth that I've now accepted: my mother was right about pretty much everything.
No more so than when it comes to the topic of practical clothes. My mother found herself fighting a losing battle against me as a child and teenager – a battle over my commitment to following trends and disdain for practical sartorial choices.
As I've got older, and a little wiser, I've realised no beautiful piece is worth risking blistered feet or the process of tolerating itchy or ill-fitting fabrics. And it turns out my mother was also onto something when she preached about quality over quantity and finding time to organise my things better.
Clear out
My shift in thinking started with a house move. After three years of not seeing the back of my wardrobe or the bottom of my chest of drawers, I was shocked to find clothes I hadn't worn since I'd moved in to the property. There were even some pieces I had no recollection of buying. As I ruthlessly bagged up items to sell or donate, I realised the clear-out was long overdue, and as each bag left my house I felt my mind grow less cluttered.
Influenced by a documentary on the minimalism movement (a group encouraging people to live with less) and no longer able to ignore the environmental impact of my fast-fashion shopping habit, I didn't immediately rush to fill the space I'd just cleared. Instead, I started to choose new items in a more careful and considered manner – and in the process, I found that I'd accidentally created my own capsule wardrobe.
Owning joy
While a vast array of books, YouTube videos and social media accounts dedicated to the subject of organising your wardrobe will tell you to buy an exact amount of items each season, based on your vision, style and colour palette, my method is much less prescriptive. I like the ethos of Marie Kondo, author of the book The Life-Changing Magic of Tidying. The premise is simple: only own things that you use regularly or bring you joy, and this can easily be applied to your wardrobe.
Unlike the crop of famous people – from the American technology entrepreneur Steve Jobs to fashion-house creative Karl Lagerfeld – known for sporting the same look, day in, day out during their lives, I've learned that a smaller wardrobe doesn't have to mean wearing boring pieces or living in black.
For me, getting dressed remains a creative process – patterns bring me joy and colours can lift my mood. I'll never be a white-T-shirt-and-jeans person and I couldn't give up my floral dresses or sparkly shoes. Instead, having a capsule wardrobe means shopping less often and buying items that are better quality that I can wear again and again.
Simple is best
The benefits of only having things in your wardrobe that you really love makes getting dressed much quicker and less of a hassle. There's no faffing around looking for the right thing or wardrobe crises working out what goes with what. Emotionally it's beneficial, too. While the process of clearing out is cathartic, I've found the concept of 'tidy house, tidy mind' rings true.
Italian life coach and social activist Elisabetta Franzoso highlights why this might be the case. 'A tidy space communicates order, balance, and clarity whereas a messy one communicates confusion,' Elisabetta comments. 'By decluttering your wardrobe and getting rid of unwanted items, you are actively expressing the desire of letting go. By letting go of unwanted objects, you are creating space for new things to enter your life.'
Living lighter
The process of streamlining your wardrobe can feel daunting, even overwhelming, at first, but Vicky Silverthorn, author of Start with Your Sock Drawer: The Simple Guide to Living a Less Cluttered Life, advises starting small and keeping your end goal in mind. 'Go with your gut feeling on each item of clothing and ask yourself which items you have ignored and wouldn't miss,' shares Vicky. 'The most powerful question of all is: "Can I live without this?" Question what you're aiming for and be mindful of your desired outcome and know that is your aim. Most importantly, remember to use the storage you have to be your guide to how much you should have.'
Living with less and opting for a smaller wardrobe takes work and adjustment, but the process has been more liberating than I could have imagined. This became clear to me when I packed my bag for a month-long trip to India. Knowing I'd be carting my backpack from train to bus to rickshaw on a regular basis, I packed as little as I could with a rotation of fewer than 10 outfits and two pairs of shoes. My bag and my mind were lighter, proving to me once and for all that a hardworking capsule wardrobe really is the best way forward.
Words: Elizabeth Bennett
This article was originally published under the title 'No more hang-ups' in Issue 15 – A new direction