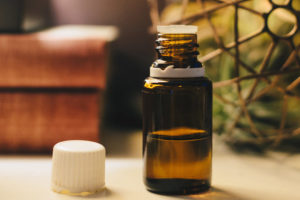 Using essential oils is a time-honoured way to give yourself a lift by massage or in a bath. But they can be just as useful around the home…
Using essential oils is a time-honoured way to give yourself a lift by massage or in a bath. But they can be just as useful around the home…
Essential oils, the source of the heavenly whiffs you get when you step into a spa or upmarket salon, could not be more popular. We have become familiar with their use in aromatherapy, cosmetics and perfumes, but these versatile concoctions are also useful for more mundane purposes, like cleaning the house or natural health remedies.
Before reaching for a more expensive chemical equivalent, why not give the following five oils a try?
FRANKINCENSE OIL
Frankincense has also recently been the subject of much excitement as an antidote to ageing skin. A few drops massaged directly on to skin are said to get rid of age spots. Used with a diffuser, it can bring clarity, enlightenment and increase spiritual awareness. It is also a natural deodoriser so will help combat unsavoury smells, and its antiseptic qualities lend themselves to good oral hygiene, freshening the breath and strengthening teeth and gums. Mixed with a carrier oil it can help reduce scars, wounds and stretch marks.
CINNAMON LEAF OIL
Cinnamon is a useful oil to have around the home. Its fragrance is said to reduce depression and, spritzed around the home, will kill off airborne bacteria. Add it to a pan of boiling water and it will quickly get rid of cooking smells in the kitchen. As a home remedy, around four to five drops added to a carrier like mustard oil is said to help relieve the pain of arthritis; massaged into the tummy it can aid digestive health and, like its partner in crime, clove oil, it can reduce toothache. Other not-so-well-known uses include quick relief from urinary tract infections if used in a bath, and all-round pain relief if added to a carrier oil.
TEA TREE OIL
A few drops of tea tree oil combined with the same amount of lemon oil and warm water will create a natural, invigorating disinfectant that will lift an entire room. A few drops of tea tree and lemon oil in a pair of rank trainers will soon have them smelling sweetly, or mix with a quart of warm water and 4tbsps of baking soda to clean even the grungiest rugby shirt. Australia's Aborginal population has been using tea tree oil for medicinal purposes for generations, but its properties have now become more widely accepted. Mix with coconut oil to treat fungal foot infections or to clean minor cuts or abrasions; gargle with a few drops  mixed in water to see off a sore throat.
LAVENDER OIL 
Another domestic godsend, this versatile oil has a host of applications. You will probably be aware that it will make a room smell wonderful and that it's a natural de-stresser and sleep-enhancer, but its benefits go way beyond the merely fragrant. A few drops added to a fragrance-free cleanser or moisturiser can help problem skin because it helps balance the skin's sebum production. Like tea tree oil, lavender is a natural antiseptic. Apply to cuts and abrasions for faster healing; revive tired spirits with a  lavender-scented footbath; ease pain by rubbing it into aching joints; massage it into headachey temples and put on a hot compress to reduce cramps or bruises.
LEMON OIL
Cold pressed from lemon rinds, lemon oil is a popular guest at any aromatherapy get-together because it is such a good mixer. It forms a particularly good clique with geranium, lavender, rose, sandalwood and neroli. But lemon oil not only smells good, it tastes good too – a few drops will transform sparkling mineral water. Among its lesser-known domestic applications, a few drops on a cotton wool ball will instantly tame a pongy dustbin; mixed with boiling water it can help clean burned saucepans; a few drops in a vacuum cleaner's dust bag will refresh a room; added to the dishwasher it will give the rinse aid a bit more zip. In much the same way, it can lift a tired complexion when used diluted as a toner.
This article was originally published in Issue 4, Breathe Magazine – Dream On.