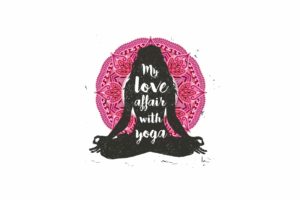 Breathe's resident yoga expert and writer Madison White explains how her battle with anorexia led her down a path of self-discovery and provides insight as to why we should let go of the fear to fall in love with yoga.
I may be biased in my opinion, but I believe at some point, (and perhaps only briefly) you will develop a love for yoga. You may not even need to go looking for it; yoga will find you, when the time is right. Yoga found me just short of a decade ago as an anxious twenty-year-old paralegal.
I had a range of skills and attributes that included: an inability to manage stress, a penchant for controlling each and every facet of my life and an inability to put myself on the priorities list. I was eventually diagnosed with Anorexia Nervosa with bulimic tendencies and towards the final stages of my recovery, I was prescribed yoga; slow, gentle movement and stretching to zen-ify my mind.
It took months of mustering the courage before I found myself in a heated vinyasa class. It was both terrifying and beguiling. I finished the class, purchased a membership and was back the next day.
Yoga is not just for the lithe or naturally athletic. Practising and through being a teacher, I have learned that yoga is not about mastering the physical asana at all. Yoga is the process of creating space within to notice the toxicities of the mind.
The lives we lead are fast, from the moment we awaken to the moment we rest our heads at night. I take the simple approach that yoga is a sixty-minute self-imposed timeout to find yourself in the present moment.
I find that for a lot of my students, they hesitated and procrastinated before jumping onto their mat for the first time. Hesitation due to fear of the unknown, fear of failing and fear of being the only guy in the room too inflexible to do the splits or stand on his head. Fear can be a barrier to a plethora of life experiences, but sometimes you have to fall before you can fly.
This article was originally published in Issue 3, Breathe Magazine – Restore Serenity.