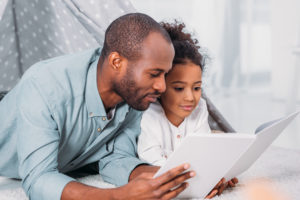 You're never too old to connect with a children's book
Taking time to re-read a story you loved as a child can offer a rich experience. The elementary messages in children's literature have a way of transporting you back to a simpler time, filled with hope and effortless wonder.
Popular demand
Today, children's literature is experiencing something of a heyday. The explosion in Young Adult fiction, which includes the Harry Potter and Twilight series, has gone some way to bolster that, but perhaps more useful still, it has also helped to make it socially acceptable for an adult to be seen reading a book aimed at a much younger audience. I've never been a self-conscious reader myself, and I urge you not to be either. Instead, dig out a copy of whatever it was you used to love reading, however silly it may seem, and I can guarantee that, as well as indulging in a moment of escapism, you'll be reminded of how effortless things can be if you remain true to yourself, kind to others and open to limitless, child-like wonder.
Five children's book never too old for
The Little Prince by Antoine de Saint-Exupéry
Possibly the ultimate children's novella for adults, The Little Prince is packed with observations on human nature, including the well-known quote: 'One sees clearly only with the heart.'
The Velveteen Rabbit by Margery Williams
With timeless themes of love, loss and identity, The Velveteen Rabbit tells the story of a stuff ed rabbit and his quest to become real, through the love of the little boy who owns him. Powerful stuff.
Bridge to Terabithia by Katherine Paterson
Following two outcast children who bond over their imaginary world, Bridge to Terabitha reveals how young people can tap into the strength within and overcome tremendous obstacles.
A Wrinkle in Time by Madeleine L'Engle
In the Newbery Award-winner A Wrinkle in Time, the children learn that Mr Murry has been captured by the Dark Thing, and they must time travel to Camazotz to save him.
The Hundred Dresses by Eleanor Estes
This is about a little girl who goes to school every day wearing the same dress, and the other girls make fun of her. She always tells them that at home she has 100 dresses. When she stops showing up at school, her schoolmates go to her house to find the truth – a very good lesson in how to treat others.
Keeping Up With Teddy Robinson by Joan G Robinson
Any of the Teddy Robinson books will do, but this was a personal favourite. Read it aloud to fully appreciate the gentle humour and to be reminded of what it was like to view every outing and every day as a wonderful adventure.
Words: Victoria Pickett
This article was originally published in Issue 12 – Set forward