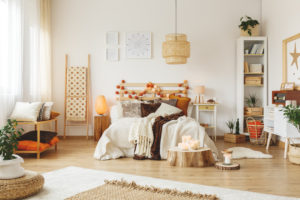 How to spruce up your living space to soothe your soul and promote wellbeing
With winter well and truly set in now, the days are shorter and it's time for a wardrobe that can withstand a cooler embrace. Light dresses, sandals and T-shirts are shunned, and coats, chunky knits and beanies are favoured as cool nights and fresh mornings become the norm. This seasonal change is important both practically and emotionally, but is rarely extended beyond the wardrobe. Living spaces tend to change little throughout the year, and remain unaffected whatever the weather.
Redecorating every six months is neither economical nor sustainable (let alone achievable), but making small aesthetic changes to a living space in line with the seasons can add comfort and breathe fresh life into any home. Most importantly, it can bring about an improvement in both wellbeing and state of mind.
In Scandinavian countries such as Denmark and Finland, where the shift in climate and light is more extreme, swapping soft furnishing with the seasons is standard – and just like the Danish concept of hygge (the art of cosiness), it seems they might be onto something.
Make a house a home
First and foremost, experts agree that having a house that feels like a home is good for health and wellbeing. 'Making a home a personal sanctuary is about creating a space where one can rest, relax and connect to their essence,' explains Grace, a design researcher. 'When surrounded with the things that you love and bring joy – be it patterns, colours, objects, fragrance and sound – your senses are nourished and your overall wellbeing is improved.'
In fact, the importance of the home environment is often overlooked. 'Our exterior space directly impacts wellbeing, and design choices affect quality of comfort on three levels: cognitive, physical and emotional,' shares Elena, an interior designer and sustainability and wellbeing expert. 'For example, logical thinking and detail-oriented processes require lower ceilings, enclosed spaces and sharp edges, while creativity and inspiration needs higher ceilings and curved shapes.'
Just as our circadian rhythms affect sleep patterns and energy levels, the cyclical nature of the seasons influences wellbeing. Making tweaks to your home can help ease the process of adaptation throughout the year.
Soothe the soul
Follow these sustainable and affordable tips for making a home during the cool of winter.
Refresh bedding
Choose a doona cover that has weight and warmth to help the bedroom feel cosier. Burnt orange, magentas, deep yellows or bold patterns all work well.
Utilise hanging textiles
A hanging rail allows for season-appropriate wall art. Switch fabrics throughout the year or hang up a cheerful summery bedspread that might be too light to have on the bed during winter.
Adjust home fragrances
Scented candles, incense or diffusers are an easy way to set a mood. The winter months in particular call for warming scents like vanilla, cinnamon, toffee and amber.
Relocate plants
Moving houseplants to different rooms can change a space entirely. Think about where certain plants will receive the light they need when relocating. Grab a bunch of flowers and display in a colourful vase to brighten up a room.
Declutter
Organise linen, sort out wardrobes, file away paperwork, tidy drawers of bits and pieces, and clear out kitchen and bathroom cupboards. Streamlining for a new season is good for body and mind. Reorganise bookshelves or coordinate books based on the season.
Swap cushion covers, curtains, light shades or rugs
Much like having summer and winter bedding, think about having cool and warm versions of soft furnishing items. Velvet, wool and thicker weaves are nice and cosy in winter. Pop into your local vintage or second-hand shops to keep purchases sustainable, and think about colours and designs.
Create a feature wall
Choose a wall or small room to repaint and create a cosy atmosphere. Colours from the yellow family can add brightness and happiness while opening up dark areas or corners, or choose purple hues to create a luxe and calming effect.
Upcycle furniture
Paint a piece of tired-looking furniture in a happy colour. It will give it a new lease on life.
Words: Elizabeth Bennett
This article was originally published in Issue 20 – Wellbeing in bloom