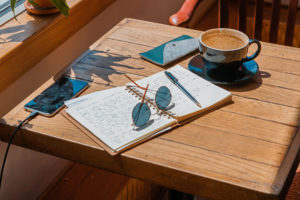 You may have kept a journal as a teenager, diligently writing your private thoughts, treasured hopes and every detail of adolescent angst. So why not return to a notebook today?
One of the things often left behind in the transition from teenager to adulthood is the habit of keeping a journal. Yet taking the time to write as an adult can lead to invaluable insight. In the quiet moments of reflection that writing offers, feelings and concerns can be explored, as can creative ideas. The future and past become clear. As words appear on the page, it's possible to move from the imaginary into the present, to understand and write new histories, to gain a healing perspective by investing in storytelling that's deeply personal. Writing on a regular basis is to have an ongoing conversation with the self, which takes place between the world as experienced and an interpretation of it. Absorbed in the free flow of thoughts and ideas, events and relationships can suddenly be seen in a new light. Keeping a notebook is therefore a way to discover and even reconnect with different selves. An afternoon spent reading through old notebooks can reignite passions, lead to a revival of interests and a new sense of commitment.
Unlike a diary, where events are chronicled, a notebook can foster creativity, experimentation and freedom of ideas. The celebrated notebooks of artists and writers such as Anaïs Nin and Virginia Woolf attest to this. Episodic, frequently unstructured, ranging from detailed vignettes of daily life to half-formed dialogues and conversations, such writings show the imagination at play and the importance of this playfulness to the creative process. The written word is extraordinarily compelling, but creativity can also take flight through the world of colour, texture and shape. A collage, moodboard or even the random assemblage of found objects – a railway ticket, a photo torn from a magazine, a sample of cloth – all of these are talismans for different creative journeys and self-expression.
Taking your first steps in keeping a notebook
Fill your pages daily
In her book The Artist's Way, American author Julia Cameron explores the connection between creativity and writing. Likening creativity to a muscle that must be worked, she encourages people to write three pages a day and to write without thinking. Such streams of consciousness allow for thoughts and ideas to arise and to unlock what she believes to be people's innate creativity.
Express gratitude
By writing a sentence a day, Gretchen Rubin, who's responsible for a weekly Happier podcast, states that people can keep 'happy memories vivid'. Realistic and highly pragmatic, her approach encourages an ongoing chronicle of personal quests for happiness and what has been achieved.
Explore the power of the visual
Collect photos and postcards, pictures from magazines, and even dried flowers, ribbons and leaves to create a working collection of images. Intuitively bring colours and textures together before trying to capture in words what they represent.
This article was originally published in Issue 13 – Note to Self