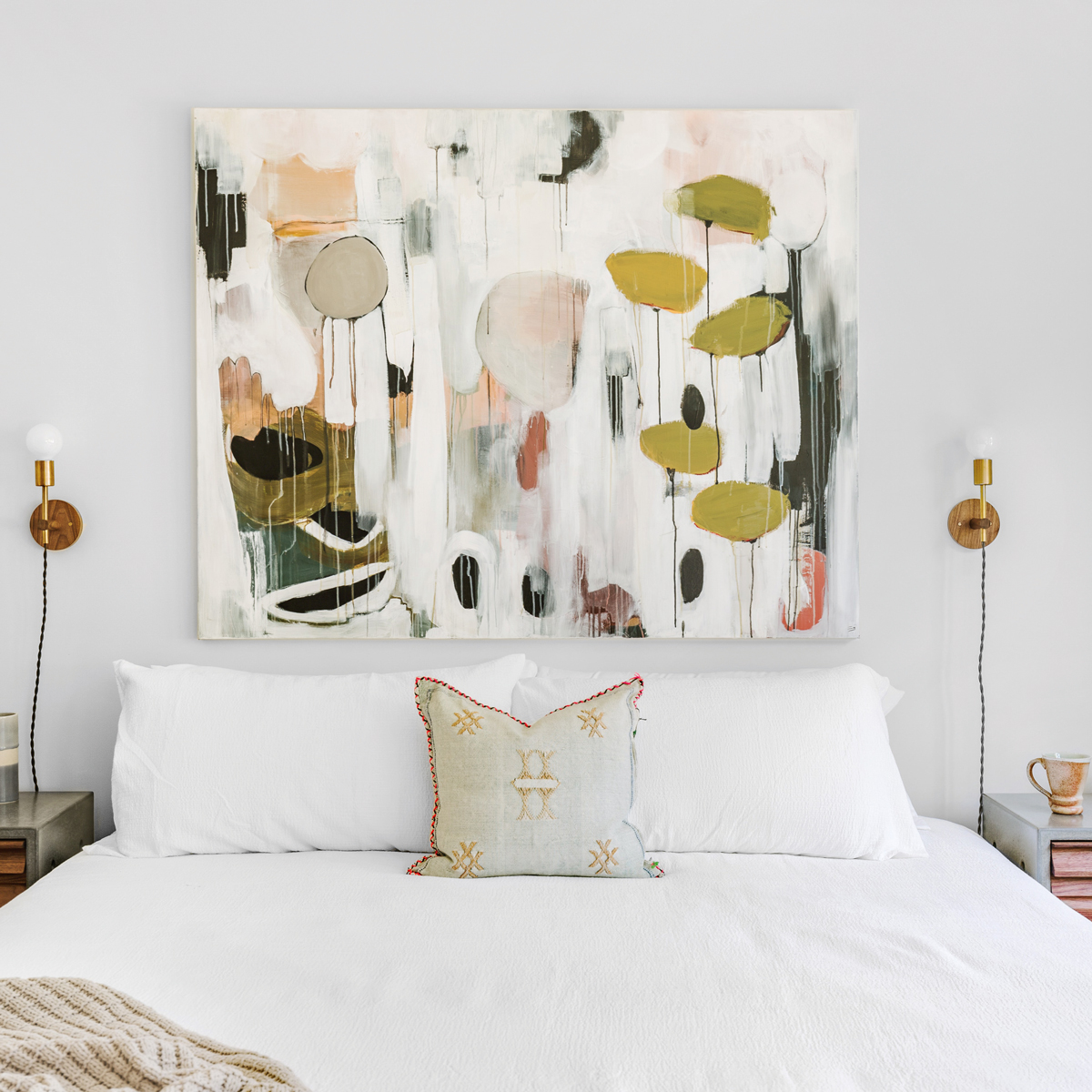 Found the perfect spot for your latest print, painting or sculpture? You might be reluctant to move it ever again, but doing so could help you see the piece in a whole new light
People react to the spaces they live in. Many fill their homes with art, decorations and interior pieces that they find comforting, aesthetically pleasing, grounding or even challenging. There's joy in finding and then positioning them in the best spot. And there they stay (often forever). Yet moving things around now and again can enhance your appreciation of much-loved paintings, glassware and sculptures.
First of all, when it comes to acquiring a piece, most art professionals advise buying something you love – to choose with the heart, instead of squandering precious blank walls on pieces bought solely as an investment. It's something recommended by UK-based art graduate and online art curator Georgia Spray: 'My best advice for decorating your home with art is not to buy art as an investment or as a prestige project, but only because you love the work and admire the artist.'
Decorating your space with pieces that you truly love helps make it a positive and happy place to be. Georgia believes it has the possibility to bring a lot of pleasure to your everyday life, as well as 'making it easier and more fun to find a spot for your artwork'.
But if you're always falling in love with art and buying new pieces, how do you fit them into your existing, carefully curated space? Or perhaps the more pressing question is: if you've found the perfect spot for your artwork, should you ever move it?
The answer is simple. If our spaces are a reflection of our personalities and style, they can change, just as our taste does. 'It's important to remember that the spot is not permanent, you can always move your artworks around as your mood and preferences change,' says Georgia. 'In my own home, I continually change the position of my artworks, to engage with them in different ways.'
If you collect art as a memento of travel, buy it to mark significant moments in your life or are simply always on the lookout for it, you're likely to be bringing new items into your home on a regular basis. And so treasured pieces need rearranging. Of course, it can be daunting to move an artwork once you've found a great spot for it, but changing things can create new moods, bring fresh perspective and inspire you further. Mixing things up can encourage a fresh appreciation of both the art and the space in which it's presented.
Make a statement with your favourite artwork
Give a much-loved piece of art pride of place, whether that's on a prominent wall or in a space where you spend a lot of time. Don't be afraid to replace it when you fall in love with another piece. You can rotate work in this spot, keeping it fresh with exciting new finds and constantly curating an area that feels inspiring.
An ever-evolving gallery wall
Gallery walls can be a continual work-in-progress. They're a great way to display lots of different pieces and easy to build on and change when the mood takes you. Don't be afraid to hang new art on your gallery wall, even if you think you've already created the perfect formation. Swap pieces in and out, take things away, try different sizes and shapes, make your wall work for you and any new discoveries that need a home.
How to hang it
Arranging artwork can be tricky if you have to keep putting up picture hooks and hammering nails into the wall. Consider other options that make it easier to move things around, such as sticky hanging strips. Picture shelves are another option that offer flexibility for your collection. Try hanging several shelves on different levels and swap pictures of different sizes in and out. Classic picture rails are seeing a comeback and they're great for hanging pieces sporadically and swapping them when you want to add something new.
Not all art needs to be hung
Think about other areas in your home where art could be displayed. Big frames can be placed on the floor or propped up against the wall, while smaller ones can be arranged on desks, console tables and sideboards. Layer them up with frames of different sizes and colours, books, and even plants, for a relaxed, bohemian feel.
Remember, it's not permanent
If you start to move art around in your home, you'll begin to get used to the idea that no place is permanent. It will help take the pressure off when it comes to finding that "perfect spot" for a piece. Georgia suggests having fun placing art: 'It doesn't have to be a serious business to pick a spot for your artwork, instead, it's a constant exploration of the possibilities of your home and your art.'
Think about themes
If you're looking for a straightforward way of grouping pieces, you could consider collecting art in themes. Some people choose to collect female artists, for example, or you could have a corner filled with travel-inspired art and photography.
Don't restrict yourself
There's a common belief that certain pieces of art suit certain rooms. For example, you'll often see seascapes in the bathroom or food pictures in the kitchen, but if the artwork's going to be on the move, then there's even more reason to mix it up and try something different. A sketch of a fruit bowl might look great in the bedroom, while a print of a deckchair on the beach might do wonders in the kitchen.
There are no rules
You can read all the tips and advice for hanging art, but there are no strict rules that you have to follow. Georgia says nothing is forbidden when it comes to art in the home: 'Hang your artwork the way you want and present it in the best possible way. It's your space after all – have fun with it.'