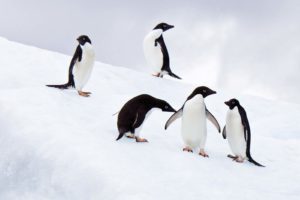 Nothing beats a thrilling close-up encounter with a wild animal in its natural environment. These first-hand encounters will leave you in no doubt about the incredible nature of our planet…
Nothing beats a thrilling close-up encounter with a wild animal in its natural environment. These first-hand encounters will leave you in no doubt about the incredible nature of our planet…
1. Strolling with penguins, Antarctica
The planet's coldest, driest and windiest continent is home to fantastically hardy wildlife, dazzling icescapes and not any people at all. Accessible only from mid-October to March, cruise ships leave from Ushuaia in Argentina, the world's southernmost city, and cross the infamous Drake Passage, which lies between Cape Horn and the Antarctic Peninsula.
2. Spending a day with sea lions, New Zealand
Known as New Zealand's wildlife capital, the Otago Peninsula offers a wealth of experiences for the travelling animal enthusiast. You can start the day watching Royal Albatrosses soar over the Taiaroa headland, then watch a breeding colony of New Zealand fur seals from a private conservation area. More than 25-30 estuarine and marine bird species can be seen in the area, including pretrel and shearwater species.
3. Snorkelling with manta rays, Australia
There's something a little disconcerting about slipping into the water with megafauna like reef sharks, dolphins, and the giant manta rays that make up part of the amazing biodiversity of the Great Barrier Reef. But once you're in, you'll be mesmerised by these beautiful creatures.
4. Waking up with elephants, Thailand
Forget riding elephants; Boon Lott's Elephant Sanctuary in Thailand is dedicated to returning these colossal mammals
to their natural habitat, in conjunction with carers, local villagers, and guests. You'll get to take part in the seasonal activities involved in the Sanctuary; walking the elephants to grazing areas and the river, collecting their food from the jungle, washing the elephants, and planting trees and vegetation.
5. Consorting with quokkas, Australia
Nicknamed The Happiest Animal On Earth, the Quokka has become a favourite of photographers everywhere due to their naturally smiling faces and affable disposition. Native to Australia, Quokkas are abundant on Rottnest Island
due to a lack of feral intrusive predators and they aren't shy around humans.
6. Big Five safari, Kenya
While many of its African neighbours still sadly allow safaris of the shooting kind, progressive Kenya likes its big game alive and free: one good reason to safari here, despite the plethora of animal adventures on offer across the continent. Another consideration is the sheer quantity and diversity of wildlife, protected within reserves like the mighty Maasai Mara and Samburu, and national parks including Tsavo and Amboseli.
7. Walking with polar bears, Canada
Get up and close to one of the most fierce and beautiful creatures on the planet. Churchill Wild's 6-night Hudson Bay Odyssey polar bear safari costs from $9,795 per person, including all-inclusive accommodation at Nanuk Polar Bear Lodge, domestic transfers and two nights in Winnipeg.
8. Tracking tigers, India
Tigers still roam in Nepal, Bhutan, Siberia and Bangladesh, but India is home to half the population, and it's here you'll have your best chance of seeing one, away from the caged confines of the zoo, or worse, a travelling circus.
9. Hanging with orangutans, Borneo
There are many reasons to visit Borneo:fantastic national parks; legendary, historic headhunting tribes; pygmy elephants; astonishing beaches and coral reefs. But above all, you must come to see the orangutans, if only to show those who log the island's forests for palm oil that their activities are not acceptable.
10. Cruising with whale sharks, Galápagos Islands
Found in many of the world's tropical seas, the mighty but harmless whale shark is such a size – averaging 12 metres in length and growing to 20 tons – it feels more like a place than a living entity. The huge filter-feeder is a mesmerising sight anywhere, but set amidst Ecuador's Galápagos Islands, the encounter becomes even more spectacular.
This article was originally published in Issue 4, Breathe Magazine – Dream On.