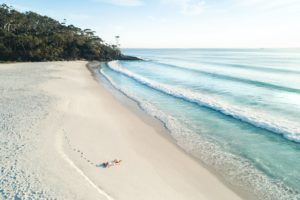 Overflowing with fresh, delicious produce and relaxing vibes, the Shoalhaven region of the South Coast has a collection of some of the finest food establishments in New South Wales.
Overflowing with fresh, delicious produce and relaxing vibes, the Shoalhaven region of the South Coast has a collection of some of the finest food establishments in New South Wales. However, the rise in popularity of vegan, vegetarian and raw food restaurants for more mindful eaters means the South Coast has become a hotspot for healthy, conscious eateries that are now scattered throughout the area. Feast on rainbow Buddha bowls, raw vegan sweets and belly-filling burgers, full to the brim with fruit and vegetable heroes, all while you enjoy ocean views, time with family and coffee roasted to perfection.
NATIVE
Overlooking the beautiful Ulladulla Harbour, Native focuses on delighting customers with splendid cups of coffee and nutritious, delicious food from daybreak to afternoon. With a passion for serving smooth, consistent coffee brews and showcasing seasonal, nourishing produce, the hardest part of your day will be choosing what to eat.
From fritters and chia pots to goodness bowls, toasties, and cakes and slices made in-house, Native picks the best produce of the season and creates beautiful dishes that fuel your belly and your day ahead. Their relaxed, welcoming attitudes, day-brightening coffees and delicious, accommodating menu choices have gathered a loyal following on the South Coast, making this the perfect spot to settle in and enjoy the views of boats nestled on the harbour. Known as 'the little café with a big heart', Native promises to serve up scrumptious meals with a smile.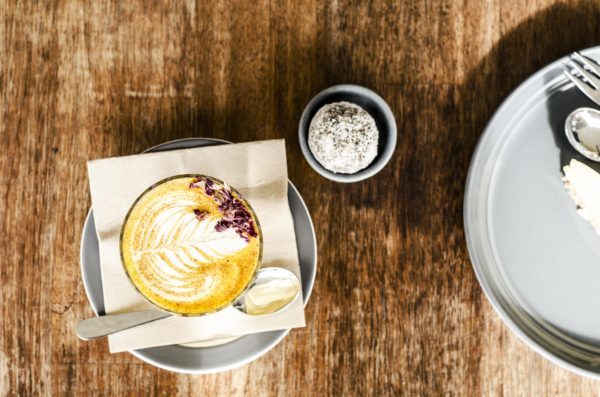 BACK 2 EARTH
Whether you're interested in simply sampling the menu or opting for a full wellness retreat package that includes massage therapy and a raw food workshop, Back 2 Earth in Berry will nourish your mind, body and soul. With plant-based delights that include vegan Indian curry, raw vegan nachos, rainbow dome cheesecakes and breakfast parfaits, this vegan health retreat and animal sanctuary is a must-see and must-try for plant-based foodies exploring the wonders of Berry. Every meal and treat on the menu is raw, meaning the ingredients haven't been heated beyond 46° Celsius in order to retain brilliant flavour, colour and nutrition. The majority of ingredients are grown directly on the farm and the retreat also supports local, organic producers in order to provide only the freshest possible food to diners. Guests will be amazed by the creativity of the cuisine, but will also love the chance to get up close and personal with the array of farm animals, including miniature horses, goats, alpacas, sheep and even geese.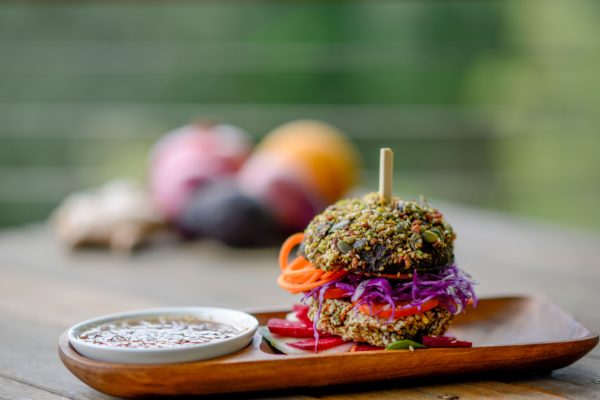 www.back2earth.net.au
LEAF
If you're searching for the perfect veggie-focused Thai, Malaysian and Vietnamese versions of your favourite fusion cuisines, look no further than LEAF, with two beautiful locations in Nowra and Berry. Standing for 'Love Eating Asian Food', LEAF has created an array of Asian dishes that perfectly salute the traditional staples, but with a nutritious twist. Find classic dumplings, stir-fries, noodles and baos, with choices for herbivores and carnivores alike to ensure no friend misses out. You will also find delicious bestsellers like vegan tom yum fried rice and vegetarian spring roll vermicelli salad, combining the best flavours and ingredients, so diners can feel as though they are making their way through a South-East Asian market sampling the freshest, finest Asian cuisine that they will 'love eating'.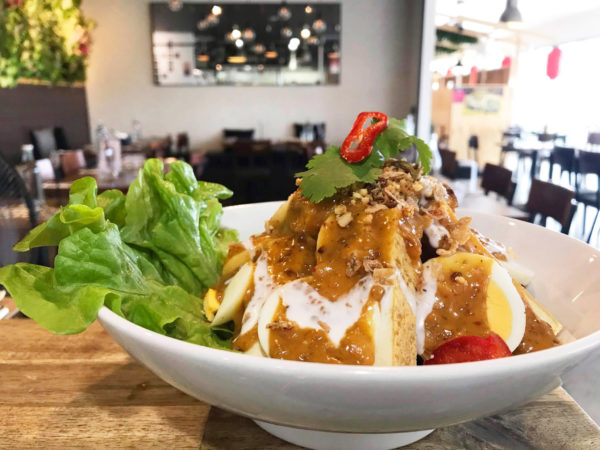 PILGRIMS
As a hotspot for vegetarian cuisine, it's lucky that Pilgrims has multiple locations. You can find their fine establishments in Milton, Huskisson, Corrimal and Cronulla, all of which are often jam-packed with people – a great sign as to the quality of the food and service. The 100% vegetarian menu includes the best of breakfast with buttermilk pancakes, homemade granola bowls, a breakfast burger or corn fritters, as well as long-time favourite lunch options that include the famous Bliss Burger, homemade pies and veggie-filled toasties. For the love of consistency, diners will find the exact same patties, sauces, jams, granolas and sweets at all Pilgrim venues, all of which are prepared on-site in Milton, the original Pilgrims location. Pilgrims now also offer feast style Mexican dinners in all of their locations on a number of nights throughout the week to showcase their fine produce and punchy flavours. Perfect for introducing more hesitant eaters to the wonders of vegetarian and vegan dishes, Pilgrims ensures fresh, flavourful food, excellent coffee and friendly service for a wondrous breakfast, lunch or dinner experience.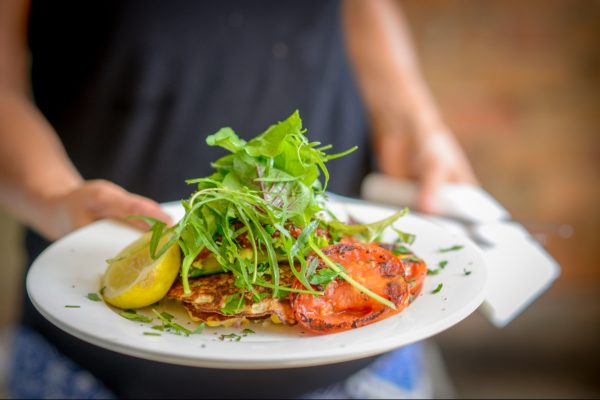 THE TREEHOUSE CAFE
A beautifully renovated old cottage in the heart of Ulladulla, Treehouse Café produces quality food with quality produce, for a quality experience. The team is passionate about serving local, fresh and honest food with a unique twist. Catering to vegan, vegetarian, gluten free and dairy free diets, but never scrimping on flavour and fun, expect to see nutritious burgers, bowls, pancake stacks and plenty of fresh fruit and vegetables on the menu, as well as a window full to the brim with the café's famous sweet treats, including freshly baked muffins, energy balls, raw slices and decadent cakes, all with choices to satisfy any dietary restrictions. Every coffee is brewed with care and every meal prepared with the environment and community in mind, hoping to give back to local business and minimise their environmental footprint. You can also enjoy monthly themed dinners with travel-inspired dishes from France, Greece, Vietnam, Japan, Sri Lanka and America to challenge the palette and enjoy a lively meal with loved ones, but be sure to book, because these popular nights always promise a full house.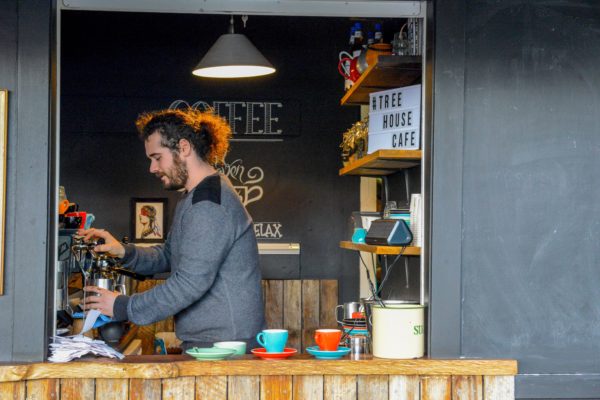 GREENDALES CAFE
A picturesque country setting, Greendales Café is nestled in the charming town of Pyree and is perfect for settling down for a delicious meal. The family friendly café provides an outdoor area for kids, while the café looks out on the green rolling hills for you to enjoy indoor or outdoor dining. With a vegetarian and vegan spin on traditional café fare that showcases the best of South Coast produce, diners can expect traditional soda scones with house-made jams, delicious burgers, falafel plates and a crowd-favourite breakfast board, all with options for vegan, vegetarian and gluten free visitors. The café sits inside a historic mill alongside Jindyandy cottages where you can explore gift shops, antique stores and markets for a leisurely
stroll after your breakfast or lunch.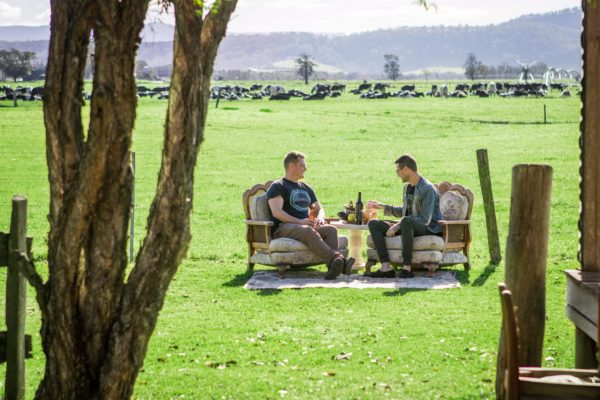 CRAFT SURF
While adventuring in Ulladulla you may feel like a nourishing snack or light pick-me-up, and the perfect spot is Craft Surf, where you will find fresh barista coffee, scrumptious treats and a sun-drenched deck to spoil your busy self. Specialising in raw, vegan and delicious sweets, Craft Surf is famous for their raw cupcakes, a perfect accompaniment to a cup of their smooth blend coffee. The cupcakes are completely vegan and are made with fresh, seasonal produce to create delectable varieties that include strawberry vanilla, choc-mint and blueberry vanilla. As you unwind and bite into your sweet treat, you can also explore the beach-inspired essentials of local and international brands as the café doubles as a clothing boutique. Be sure to stop in if passing by to pick up a delicious cupcake, coffee or even a holiday-inspired outfit.