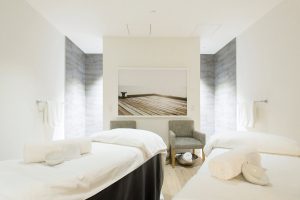 Breathe sent our resident writer and lifestyle blogger, Carly Saillard, to Endota Spa in the beautiful seaside town of Terrigal.
I'm lying on a bed, swaddled in fluffy towels with a warm jade stone placed on my abdomen. As soft music plays in the background, gentle notes of patchouli and ylang ylang waft over me. Two hours ago I met some friends for coffee and told them I was going to a spa for a facial treatment; knowing how busy I am and haphazard my skin care routine is, we all laughed at the mental image of me in a spa, relaxing with a face mask on. Lying here now, I feel like a different person. This is amazing.
I'm at Endota Spa Terrigal receiving the recently launched New Age Light Therapy Treatment, using the associated NEW AGE range of products. While the LED light and mask are working wonders on my skin, I receive a foot massage that melts every bit of stress that's built up over the course of a long and busy week. I didn't even realise how wound up I was until all my tension starts to fade. The dim light of my treatment room makes the outside world seem far away.
Founded by Melanie Gleeson in 2000, Endota has grown to become Australia's largest national spa franchise and has locations all around the country.Their philosophy is that the time you spend there isn't a treat, it's a treatment. Taking regular and dedicated time to yourself to relax and de-clutter your mind is a healthy habit that allows emotional replenishment as well as physical care.
It's easy to lose track of your stress levels and to feel like scheduling time for yourself is selfish and indulgent, but once you focus on making personal time a habit you look back on your previous stressed self and wonder how you ever made it through each week.
I breathe in, exhale slowly, and melt into my cocoon of towels.
Read our full review of Endota Spa in the first issue of Breathe Magazine, on sale now. Five lucky subscribers will win a luxury day of treatments at Endota Spa including:
Body exfoliation

Clay wrap

Full body massage

Facial

Manicure and a pedicure
Don't miss out! Subscribe now for your chance to win!
Competition closes midnight (AEST) on Wednesday 5 April 2017. The winner will be chosen at 10:00 AM (AEST) on Friday 7 April 2017