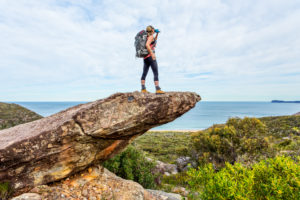 Rather than jetting off to some far-flung paradise, find freedom and fun much closer to home
Whether you're looking to relax for a few hours, hope to reconnect with nature, or just want to do something different, there's more happening on your doorstep than you might imagine.
Natural beauty
No matter how urban your local area, you're never far from greenery. Australia has over 500 national parks covering more than 28 million hectares, including the Royal National Park in New South Wales and the Flinders Ranges. Less well-known examples include the Naracoorte Caves National Park in South Australia, recognised in 1994 as a World Heritage Site for its extensive fossil collection, and the pristine wilderness of Southwest National Park in Tasmania. These tend to be smaller but no less dramatic, and are dotted across the country from the coasts to the deserts.
These stunning landscapes offer you the chance to walk (whether that's a mammoth hike or a leisurely stroll), watch wildlife, discover natural history, eat great food and much more, and they are often a short drive from urban areas.
Magical museums
From the National Museum of Australia to the WA Shipwrecks Museum, there's something for everyone. History and arts and crafts share space at the Museum and Art Gallery of the Northern Territory while the Australian National Maritime Museum brings to life the Royal Australian Navy. If your tastes are more eclectic, there's the Daintree Entomological Museum. So, take a stroll around the museums and art galleries in your area – no matter how big or small, chances are you'll happen upon some amazing discoveries and come away feeling inspired.
The life aquatic
The Earth's surface is 71 percent water. That means there's a good chance you're near a body of water – be that a river, lake, dam or ocean – where you can try your hand at water skiing or windsurfing. Stand up paddle boarding could be the answer for those who want to take the plunge in a gentle way and offers a peaceful means to explore rivers, lakes and seas. Paddle boards are also good for yoga practice, adding a challenging dimension to your asanas!
If the mere idea of water sports leaves you cold, there are more relaxing pursuits on the country's many rivers and bays. Twofold Bay, in Eden NSW, for instance, is a perfect spot to board a boat for a whale-watching trip while Busselton, a holiday resort town in WA, is perfect for a summer picnic and a stroll along the shore of Geographe Bay. Check out similar waterways in your area and you might be pleasantly surprised.
Different perspective
Sometimes all it takes to make the familiar seem exciting is to learn more about it. Cast off preconceptions, think like a tourist and see your hometown in a fresh way. Take an open-top bus tour or check the local bus routes. A Hop On – Hop Off ticket on a Big Bus Sydney, for instance, allows you to experience the glorious Darling Harbour and Bondi Beach, while the Gray Line Melbourne City day tours take in the city's relaxed, elegant charm. There are also dozens of cycling and walking tours of Australia's famous vineyards while those with an interest in the paranormal could join a night-time ghost walk.
Top of the class
No matter how small your hometown, the likelihood is you'll be able to join a class and learn a new skill. It could be dance, creative writing, life-drawing, a foreign language, pottery, or something more unusual such as lino-printing, whittling, screen-printing, sign-language or bee-keeping.
Many studies have shown a correlation between creative pursuits and good mental health. So, by learning something new, you're developing your mind, gaining transferable skills, meeting new people, possibly, finding a life-long passion – and exploring new parts of your comfy old town.
Words: Josh Alliston
This article was originally published under the title 'Feels like home' in Issue 6 – Personal reflection