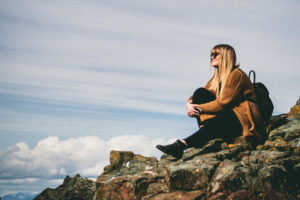 If your wellbeing benefits from time on your own, then put the fear of what other people might think to one side and take your first steps outside.
'Me time' often happens indoors – a bubble bath, a TV binge, staying tucked up in bed for the morning – but finding an hour or so to indulge yourself doesn't always have to be inside. Exploring and discovering new experiences on your own in the outside world builds confidence, makes you more independent and resilient – and boosts your wellbeing too.
Five things you can do by yourself
Attend an arts venue
Go to a cinema or theatre, visit an exhibition or gallery – be spontaneous. Get your art fi x and some inspiration for your own creative projects. The best thing about attending exhibitions alone is that you're allowed to enjoy them at your own pace, reading as much or little information as you wish. You may also find that you get more easily lost in plays, musicals or films as you don't have to worry about any other person's enjoyment, simply your own. The experience becomes more personal.
Visit a museum
There are a vast number of museums across Australia and New Zealand – established or pop-up – so there should be plenty of options, no matter where you live or what you can afford. Look at their websites for information about new exhibitions, or find out when visiting is free. The opportunities to seek education and expand your knowledge are endless.
Take a stroll in a green space
Weather permitting, put on a comfortable pair of shoes and enjoy a leisurely walk alone in the peace and tranquillity of the natural world. It's free, it's good exercise and it can give your mind time to process or reflect on things you may have been putting off. You might pass people walking their dogs, families or joggers, but one thing you can guarantee is that everyone will be absorbed in their own activities, so this may be a good choice if you're feeling anxious about the prospect of taking that first journey somewhere alone. After your walk, find a comfy spot to sit and either pull out a book or simply watch the world go by.
Explore your city, town or local suburb
There's a good chance you won't be familiar with every area on your doorstep, so either turn up with an empty itinerary and see what takes your fancy on the day, or come with a plan of places you want to see. Stop for lunch or dinner – enjoying a meal alone is possible! – or just a rest, and by the time you arrive back home in the evening, you'll be glowing with happiness.
Go (window) shopping
Shopping alone allows you to browse, try on and take your time without the pressure of considering if your company is bored and ready to move on. It might also make you look at items you normally would disregard as 'not suiting you', and as a result help to build your confidence. If you're in need of a friend's opinion, in this social media age, anyone can be reached by sending a photo in an instant. However, one of the great things about shopping alone is that you don't need anyone else's approval – if you feel good in the new item of clothing, then that's all you need to know to make a decision on purchasing it. Trust your own instincts.
This article was originally published in Issue 12 – Set Forward