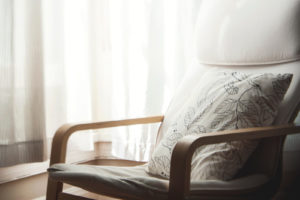 If you are starting to fantasise about a desert island, you may have been neglecting your 'me time', when you disconnect from the clamour of your daily life. The answer is to build a haven in your own home...
If you are starting to fantasise about a desert island, you may have been neglecting your 'me time', when you disconnect from the clamour of your daily life. The answer is to build a haven in your own home…
Solitude should be achieved at the slam of the front door. In that split second you can shut out the large, loud world, instantly muffling the drone of the traffic, the neighbourhood bustle and even the sound of your own heels clicking on the pavement. Peace at last. Or maybe not.
For many of us the home can be just as deafening as the street, the office or the shopping centre. Young children don't come with volume control and noise from competing devices and screens can create pollution in your head and heart as well as your house. The need for peace, stillness and isolation is not always easy to spot, it can creep up on you when you least expect it. If you feel alone in a crowded room or the sudden desperate urge to escape to a deserted island then you have not been self-regulating your 'me time'.
More than ever there is a need for peace and quiet. But how do you change the frantic soundtrack of your life and build a bubble of serenity and harmony into your busy routine?
Reclaim the shed
The outbuilding, garage or shed is no longer the male preserve, it seems. Women have cottoned on to the joy of having their own exclusive space to design to their liking, and sales of 'she-sheds' are growing every day. As Virginia Woolf almost put it, 'A woman must have money and a shed of her own, if she is to write fiction.'
While such outbuildings are often converted into yoga studios or darkrooms for keen photographers, it's just as important that they are used to do absolutely nothing, as well as something.
The point of the she-space is the choice. This is about women reclaiming the shed, or other outbuildings, to spend time outside the house and to separate work, family and alone time.
A room of one's own
The easiest way to create your own space is to buy a shed or indeed a lovely vintage caravans on wheels, which have become fashionable. But what if you don't have room for one, or the budget to convert a garage loft? The last thing you need is to obsess over moving to a bigger plot or spending hours on Domain checking out homes that come complete with outbuildings. The to-do list is long enough already.
The quick and easy alternative is to take another room which is seldom used and make it your own. A guest bedroom or parttime study is perfect. Clear out as much unnecessary furniture as possible so there is floor space for meditation or core exercises. Swap the double bed for a comfortable sofa bed, or chaise longue, and place it by the window. It can double up as a reading spot and an occasional day bed.
It's all about creating a room that makes you feel special. Your space should appeal to all of your senses; adding a candle or reeds with a favourite scent is a perfect way to immediately help you feel at ease.
Reflect the colours in the beautiful local scenery and changing seasons, with warming red and orange tones in the autumn and refreshing blossoms in the spring. In terms of colour palette for the walls, Haymes Paint's pastel vogue range would suit, with shades such as Orchid Mist, Raw Silk and Country Spun – you get the picture.
Lighting can make a huge impact on the mood too, so try not to use harsh overhead lights but create cosy corners using low level lamps.
However, a word of warning: designing and creating your safe haven should be relaxing in itself, but follow to your personality type. If you enjoy DIY then pick up the pot and enjoy painting the floor Fiesta Yellow. However, if this prospect incites stress not serenity, get some help in.
The beauty of the domestic she-space is its patient presence 24 hours a day – accessible at the turn of a door handle. It seems solitude should start at home.
This article was originally published in Issue 4, Breathe Magazine – Dream On.