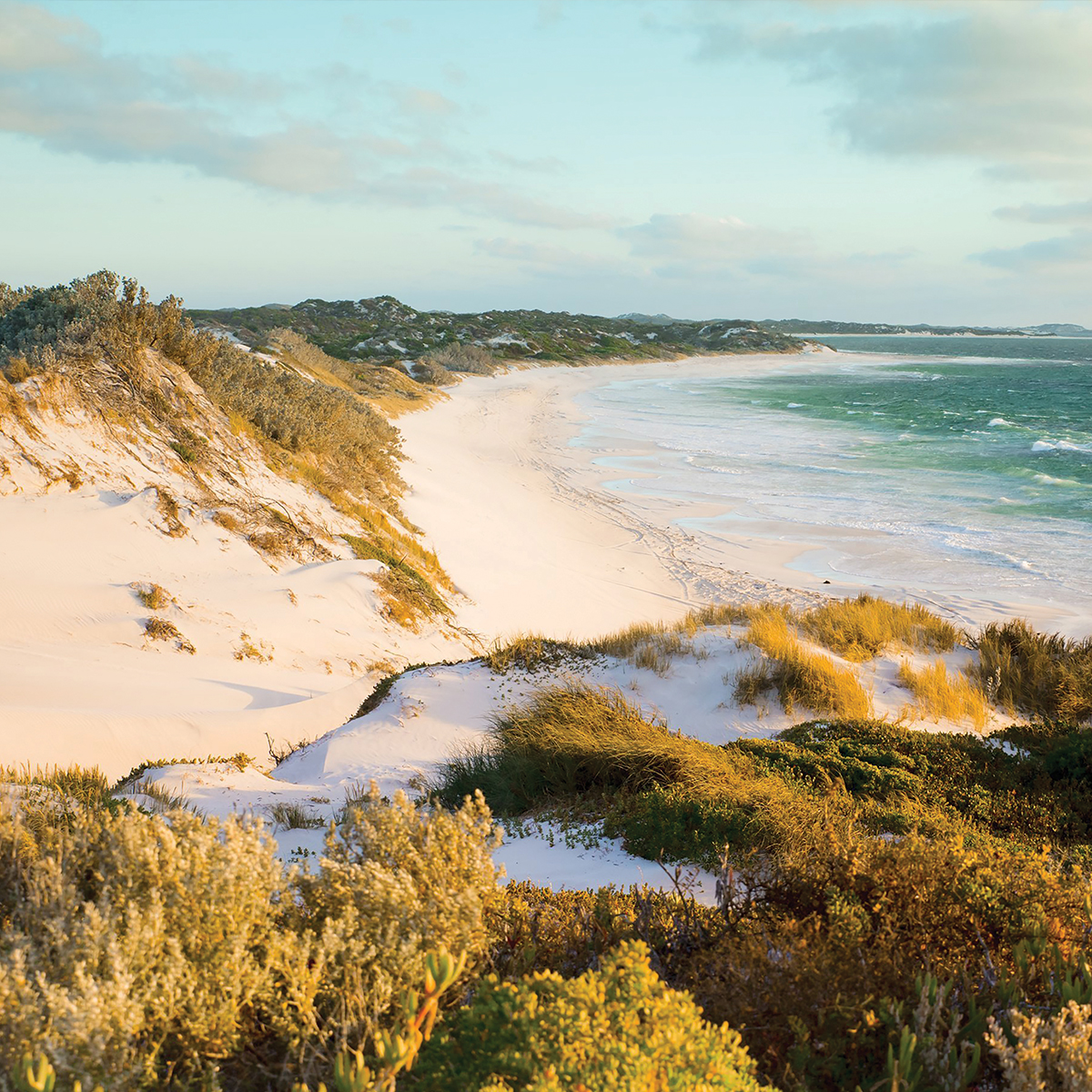 Australian soil is vast and varied, so why not soak up the joys of a staycation?
Whether it's an idyllic white, sandy beach, an unmissable adventure in the rainforest or the jaw-dropping sight of ancient monuments, images and anecdotes of all the things you simply must see and do abound these days. Yet more and more people are deciding to spend their holidays closer to home and explore what's on their doorstep. The staycation, as coined in the mid-2000s by either Americans or Canadians (depending on which sources you believe), is, happily, here to stay.
Melissa, a yoga teacher and vegetarian caterer, is a recent convert. 'After years of travelling and living all over the world, I finally had the urge to explore my own country,' she says. 'So many people travel [from] far and wide to see Australia, but here I was, having travelled to places including India, Thailand, Scotland and Mexico, yet I'd never ventured into my own abundant backyard. My first trip to the top end with my husband and fellow travel-lover Dan was beautiful. We went on a road trip along the coastline and I saw it through the eyes of a tourist and loved every minute.'
Holidays take effort – choosing where to go, planning the itinerary, booking all the elements. It all forms part of an exciting build-up, but it can prove overwhelming, if not stressful. The quest for the perfect holiday can leave you exhausted by the time it arrives and even too drained to properly enjoy it. Add to that the pressure of feeling you need to entertain, organise or see as much as possible while away and it's easy to understand why so many claim they need a holiday to get over a holiday.
From the ochre-rich outback, rocky ravines and dense rainforest, to the sheer enormity of 50,000km of coastline, our nation is rich in diversity
Perhaps this is why so many more people, like Melissa, are discovering the love of a holiday nearer home. Through necessity or choice, the figures are on the rise as more and more Aussies remain on home soil. Research in 2018 revealed that 56 percent of Aussies search for hotels in domestic destinations, with Melbourne, Sydney and Brisbane topping the list for a short stay. It's not hard to see why; from the ochre-rich outback, rocky ravines and dense rainforest, to the sheer enormity of 50,000km of coastline, our nation is rich in diversity and packed full of experiences you can't get in many international locales.
There are the obvious practical benefits that come with spending free time closer to home. Overseas travel often involves lengthy waits at airports, cramped seats, passports, queues, and long transfers, which swallow up time and test patience, whereas a week spent somewhere locally involves a short drive, bus trip or train journey.
A staycation, of course, can also mean not leaving the boundaries of your hometown, something I did a few years ago, and I have particularly fond memories of one family afternoon in the garden. Who knew it was possible to have as much fun with a smorgasbord of snacks, endless cups of tea, a netball hoop and three generations? They were precious moments with my nearest and dearest and I didn't even have to cross the doorstep.
Psychologist Rachel, also a lover of a stay-at-home vacation, agrees. 'Sometimes the appeal of a holiday is the anticipation of going away, waiting and thinking about your destination and plans and physically removing yourself from situations and stress in your life,' she explains. 'But I think sometimes we also need to learn the art of having a staycation as it teaches us how to de-stress and recentre at home… often the place that elicited the stress in the first place. A staycation is an ideal way to get down to the nitty-gritty of what in your life is overwhelming, stressful and out of balance. At home you won't be distracted by new adventures or exciting things, so you can use that mental space to be still and really process what is going on in your life.'
Rachel suggests the following for a stay-at-home vacation:
Set up your space carefully. Having a clean and comfortable room, a well-stocked fridge and some entertainment on hand (books, magazines, or a craft project are ideal) will help to avoid distractions and keep you focused on pure relaxation.
Reconnect to your environment and enjoy the opportunity to quietly explore places that might usually be busy.
Meditate, do some mindful activities and keep a journal to track your thoughts and feelings.
Even a short staycation can have a transformative effect on wellbeing, giving the physical body a break from hurrying around and the mind time to slow down. It's a chance to get away from the busyness of life without even packing a suitcase.
HOW TO HAVE A SUPER STAYCATION
Enjoy solo time to sit and savour a steaming mug of tea or coffee while reading a favourite magazine or book or listening to much-loved music. This is an approach that's best enjoyed while wearing a snuggly jumper or your comfiest pyjamas. Bliss.
Don't be put off by the weather
You may experience poor weather at some point, but don't let it spoil the fun. Don your layers and windbreaker and immerse yourself in the magical – and temperate – climes that we are lucky enough to experience here in Australia.
Arrange an invigorating walk with a friend or family member. It could be in a nearby national park or along our many awe-inspiring shorelines. It's a great way to catch up on the recent events in each other's lives. Alternatively, head out for a solo stroll or with a companion who also enjoys silence.