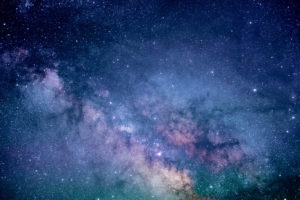 In this frenetic world, it's more important than ever that we get a good night's sleep, giving our brain a chance to rest.
In this frenetic world, it's more important than ever that we get a good night's sleep, giving our brain a chance to rest. Yet light pollution is keeping our night sky bright, making this increasingly difficult. However, all is not lost, says Simone Scott.
When you wish upon a star…
…your dreams come true. So goes the childhood song. Sadly, however, we just don't see so many stars these days, do we? That's because light pollution is ensuring our skies are never dark, making it less likely for our minds ever to be quiet.
What is light pollution?
Notice those clusters of yellowy-white light when you look at images of the Earth taken from space? That's light pollution marking the territory of our towns and cities; predominately caused by the glow emitted from artificial light, with our street lighting being the biggest culprit.
So what is a Dark Sky Place?
A Dark Sky Place is an area that has been officially recognised for its low levels of light pollution and good public access. Certification is provided by the IDA following a rigorous application process.
Where can I find a Dark Sky Place?
In Australia and New Zealand, we're lucky to have lower light pollution levels than many other countries, as well as two of only three IDA certified Dark Sky Places in the southern hemisphere:
New South Wales, Australia
Siding Spring Observatory offers tours, although the telescope is used for research and not available for public use. Other observatories in the area can be visited by the public.
The park is also National Heritage listed.
StarFest is held annually over the October long weekend at Coonabarabran.
Aoraki Mackenzie International Dark Sky Reserve, New Zealand
IDA Executive Director Bob Parks: "To put it simply, it is one of the best stargazing sites on Earth."
What can we do to keep our skies dark and our minds rested?
There are several things we can do to improve our immediate environment, as well as some easy steps we can take for our own health and wellbeing.
Increase our exposure to natural light:
Start the day with an early morning walk to wake our bodies and minds and fi ll ourselves with natural vitality.
Take a break during the day to step outside and enjoy daylight.
Open blinds and curtains during the day to let the light flood in!
Minimise our exposure to artificial light at night:
Use 'blackout' curtains and blinds to minimise the glare from street lights.
Minimise evening use of 'blue light'-emitting devices such as mobile phones and PCs, and try to avoid all use within an hour of going to bed.
Download a 'colour temperature' app for your devices – these adapt the screen to filter the more harmful blue light as natural darkness falls.
Use home lighting wisely:
Use home lighting only where and when needed – do we really need to keep that hallway light on? With good positioning, can we manage with one lamp in our lounge rather than two?
Choose the right bulb – check packaging and choose those with a colour temperature below 3000k. For outdoor lighting, opt for below 500 lumens and install proximity timers so lights are activated only when needed.
Close curtains and blinds at night to stop light from our homes seeping into the dark skies.
Point lighting to where it is needed – not at the sky!