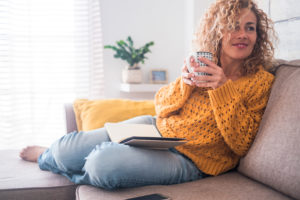 Turn back the clock and spend an evening without the digital deluge of social media
A refreshing storm has rolled in, and thunder is rumbling overhead. Come into the house, close the door and kick off your shoes. You have a precious evening at home, with no kids to take care of, no housemates or partners to negotiate. This is your time, to spend as you wish. What are your plans for the night? How will you use these precious few hours between the busyness of daytime and the blank slate of sleep?
Perhaps your ideal evening includes a leisurely meal, and then an hour or so absorbed in a new book. Maybe there's a long soak in a candle-lit bath, followed by a slow settling into bed. Yet best-laid plans don't always work out. You forgot the ingredients for a meal, so have to grab a pizza and salad on the way home. Once through the door, your phone pings with an email awaiting a response. You thumb out a reply while dinner's in the oven, and then trawl through the rest of your inbox until the timer beeps.
As you shovel food in your mouth, you keep your mind occupied by checking social media. After dinner, you pick up that book you've been meaning to read. It's hard to concentrate. Your head is still full of memes and rants, you switch on the TV, searching for something half-decent. The phone beeps another message, and you tap out a reply while flicking channels.
You stagger to bed and lie in the dark, wondering why you can't seem to relax, and why your evening wasn't the haven of tranquillity you had hoped for.
Instant gratification
Perhaps your realities aren't as extreme as this, but evenings spent at home are not always nurturing. Today people are overwhelmed with choice and addicted to instant gratification. It's not a good combination to enable anyone to switch off in the one place you're supposed to: your evenings at home.
So, here's a plan to help you relax in the evening and sleep well, without feeling a failure because you've only listened to that mindfulness podcast once this month. You're going to spend an evening over 20 years in the past, in 1999. The 1990s was the last decade before the explosion of the digital revolution.
Since then, the desire for instant gratification has been indulged with ever greater rapidity. In addition, the past 10 years have seen a phenomenal rise in social media usage. Only now is there acknowledgement of its downsides, including its impediment to a sense of wellbeing and calm. Too much choice is overwhelming for the human brain, meaning decisions become almost impossible to make.
An evening at home in 1999 is the perfect template to navigate a way through the digital minefield.
Here's how to party (relax) like it's 1999
Make your mobile a landline
Remember owning a landline phone? Turn up your mobile's ring and put it in another room, somewhere you won't be tempted to go. Okay, so some of you may have owned mobiles in 1999, but they were used meanly and sparingly. Also, if you do answer the phone, stand well back so you can neither hear properly nor be heard, thus giving you an authentic mobile experience of the 1990s.
Play music while making dinner
When cooking a meal (or heating a pizza), play an album instead of relying on Spotify. Start listening to the first track and listen all the way through.
Watch a program from start to finish
If halfway through you realise you don't like it, turn it off and read a book instead. Remember, there's nothing on the other channels. And if you're tempted to look up anything, too bad, unless you have the Encyclopaedia Britannica to hand.
And to immerse yourself fully in 1999:
Listen to On How Life Is by Macy Gray
Watch Friends: The One in Vegas
Read Harry Potter and the Prisoner of Azkaban
Words: Stephanie Lam
This article was originally published under the title 'Turn back the clock' in Issue 13 – Note to self