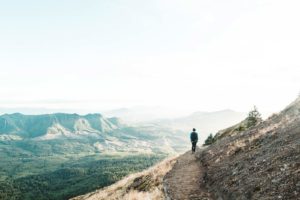 Sarah Marquis has made her life an adventure, walking thousands of miles across the world's most inhospitable terrain, including the desolate wastes of the Gobi Desert…
Sarah Marquis has made her life an adventure, walking thousands of miles across the world's most inhospitable terrain, including the desolate wastes of the Gobi Desert…
A walk in the wilderness not only helps us to reconnect with nature, it also provides the space and solitude to help us truly reconnect with ourselves. But for some women, a few hours' stroll isn't enough: they have vast deserts to cross, dense jungles to explore, mountains to climb and, perhaps, a few demons to exorcise along the trail.
For more than 20 years, National Geographic explorer and author Sarah Marquis has been taking walking to the extreme – stretching her body to its limits and pushing her mind to a place way beyond its comfort zone.
In 2000, she spent four months walking 2,485 miles across the United States from the Canadian to the Mexican border. Two years later she wandered the Australian Outback for 17 months, covering 8,700 miles on foot. And in 2010 she undertook her greatest expedition yet: walking from Siberia across the Gobi Desert and China to Australia, where she finished her journey three years – and 10,000 miles – later.
'You don't become an adventurer: you are one. I've always had an adventurous spirit, but I think we all have them when we're young – some of us just lose them when we get older.
I grew up in the tiny village of Montsevelier in northern Switzerland. My dad was a watchmaker and my mum looked after me and my two brothers. We had a great childhood, spending most of our time in the forest, making shelters and running free. My brothers grew out of it, but I never did. I was always outdoors, climbing trees and looking for birds.
When I was 17, I decided to ride across Central Anatolia in Turkey on horseback, without ever having ridden a horse. I remember mum gently encouraging me to have a riding lesson before I went, but I told her I'd seen it on TV, so I'd be fine. How hard could it be? Weeks later, I found myself clinging to a runaway horse with no idea how to stop it (luckily a steep hill did the trick) so maybe I should have listened to her!
It was the first time I'd left Switzerland, and I had no idea what to expect, but I was fearless. The trip was a revelation. There was nobody telling me what to do and I loved having the ability to create my own life, just the way I wanted it. I felt instinctively connected and discovered a new power inside me – I was exactly where I wanted to be and I knew anything was possible.
I was very young, but there was nothing childish about my adventure – I took it seriously, and I'm still very serious about all my expeditions. Travel for me has never been about having fun – I don't care about that. It's about having a deep connection with nature and being able to survive in the wild.
Over the years I've become known as an explorer, but that's only the change in society reflecting on me. I've been given an acceptable label but in reality, what I'm doing now is the same thing I was doing then. I'm no different from that little girl dreaming her big dreams, or seeing an incredible landscape in a book and setting out to find it.
I've trekked through the Andes for eight months, canoed through Canada's Algonquin National Park, hiked 8,700 miles in the Australian Outback for 17 months and camped out in Patagonia. In 2000 I walked the Pacific Crest Trail from Canada down to Mexico. It took four months and it was hard, but I loved the discovery in every step. Inside, I'm still like a kid – everything is new, and the more I walk, the more awake and alive I feel, so I never reach the point when I think I've had enough. I'll always walk until I can't walk anymore.
We're all different, and we all have our own personal mission. The difficulty is to listen to our voice within. Society can pressure people in so many ways. When I was 20, all my friends were talking about having a husband, kids and a house, and I was thinking, 'what are you talking about?' I always knew that was not my path. I've had some long-term relationships, but it's complicated because I'm away so much. When I reached 30, people were still telling me that the mothering instinct would kick in, but it never did. I think whatever path you choose – the family path or the path of exploration – each one has positives and negatives, but I just know inside me that I'm not meant to give birth and look after a family. My mission lies somewhere else: it's being able to survive and melt into the wild, and then crossing a bridge back to the human world and sharing that experience.'
Wild By Nature: From Siberia to Australia, Three Years Alone in the Wilderness on Foot by Sarah Marquis is out now. To find out more go to sarahmarquis.ch
Photo by Mika Matin on Unsplash
This article was originally published in Issue 1, Breathe Magazine – Make Time for Yourself.