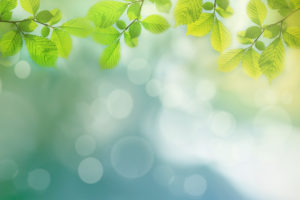 Embracing nature, wherever you live.
Forest bathing – a recent global trend that prescribes an immersion among trees in order to improve one's emotional wellbeing – seems an unnecessary invention. Everyone knows that being in nature is good for you, especially when life can be stressful. Yet often that stress means there's little headspace to plan nature into your life. Forest bathing provides a guide for people to access the green spaces beyond cities and suburbs, escaping the overstimulation of urban environments.
I'm all for a plan to help keep mental and physical health intact – and I know that walking through the bush is good for my soul. But for those who live in the middle of cities, and even out-of-town suburbs, getting to the nearest national park is a considerable undertaking. It requires time and transport and, although I adore walking among the gum trees, a once a year bushwalk is nowhere near enough to ease the pressures of urban living.
I also think that regular contact with nature is more important than an occasional total immersion – and not only for the peace of mind it brings. Fresh air and natural light first thing help to reset the body's circadian rhythm, aiding a restful night's sleep. In addition, unhooking yourself from the morning phone check delays any potential stress response.
I was out of my comfort zone the first time I took a dawn-lit trip to place my hands on a tree, joggers and dog walkers nearby. But then I realised that the peace and headspace it gave me was worth it. Nature moves at its own pace and stops you speeding too fast for your own good. Adopting a regular routine to embrace nature reminds me there's more to life than the dizzying confluence of thoughts racing about my mind.
So remember: no one needs the grandeur of a forest immersion to get the benefits of nature. Just by creating a regular practice, close to home, you'll sleep better, slow down and feel calmness all around.
Tips to nurture yourself with nature
Do you live within walking distance of a park? If not, discover some nearby trees. Even pavement-planted ones provide a nature hit. Start the following once a week, perhaps on a day off. Then, set your alarm early and go outside several times a week.
Wake up early. Get up, get dressed and head outside. Don't check your phone. Just go.
Walk to the place you've chosen. It could be your own front lawn, or a patch of grass a 10-minute stroll away.
Enter the park or nature spot. Choose a tree and place your hands upon it, if you're feeling brave. If not, take a few moments to study the spot you've chosen. Notice the patterns made by the bark and the branches, the varying heights of the blades of grass. Try to spend at least a minute there, absorbing your surroundings. Breathe.
Return home and continue with your day.
Words: Stephanie Lam
This article was originally published in Breathe Magazine Issue 17 – Going with the slow