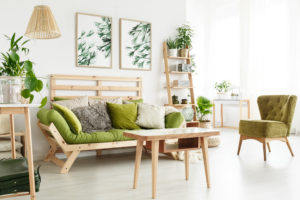 Ways to improve your wellbeing wherever you work or dwell.
Anyone who's played The Sims will know that when you hang a painting on the wall, your Sim's mood goes up. As a teenager, I never thought this was realistic – the idea that a person's state of mind could drastically increase because of an object.
The truth is, though, your surroundings play a huge role in the way you think and feel. While your mood boost (or decline) might not be as immediate as in The Sims, studies now suggest that how beautiful your immediate environment looks can make a big difference to wellbeing, with benefits to overall health.
Five ways to cultivate beauty in your space and improve your wellbeing
Put aside time to reorganise your home or office. Start small, with a bookshelf or a messy desk. Properly consider whether you really need to keep that old lamp or stack of dusty CDs – you could donate them to charity! Not only will tidying and decluttering make your space look more attractive, it will also become a place where you can really relax.
Don't feel guilty about splashing out on making your house look nice. You don't need to spend a fortune – but a pretty lampshade, nice painting or colourful rug can go a long way when it comes to improving how beautiful a room looks, and how you feel when you spend time in it.
Think carefully about your colour scheme, as the hues you choose can influence your mood. Neutral colours typically work better in the bedroom as they're more relaxing, while bolder colours suit communal areas. Repainting a feature wall can make a huge difference to the overall look of a room, and it's often a cheap way to feel like you've undergone a bigger redecoration.
Buy some houseplants for decoration. Not only can they promote productivity and creativity, but indoor plants are also good for purifying the air in a room. They add a splash of calming colour, too.
Make the most of your natural light. Consider moving furniture so you sit, work or sleep closer to a window. If your room doesn't benefit from much natural light, think about opting for a colour scheme centred around lighter hues or try hanging some mirrors on the wall – both options can make a space feel lighter, and leave you feeling brighter as well.
Words: Olivia Lee
This article was originally published in Issue 17 – Going with the slow