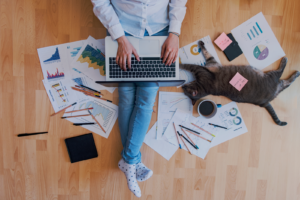 It's important to draw a line between work and winding down
Working from home can be liberating. But it's not without its challenges.
Take a look on any social media platform for freelance creatives and there are three main discussion points: chasing up late payments, finding a niche market, and the pressure that comes from living in your home workshop or working in your home space. This can even be a challenge for those having to work from as part of their role in a wider company.
For those who spend their days wandering from kitchen to working area and back again, how is it possible to switch off and know when enough is enough?
The stress of hustling for work, filling orders, filing paperwork, and then having to maintain a fulfilling home life on top of it all is enormous. It can leave you wondering if life will ever have a sense of normality and routine again. Here are some ways you can bring balance to your days working from home.
Stick to your strategy
For anyone working from home, a cut-off strategy is crucial. But what does switching off and truly disengaging look like? Ideally, it involves a total mental as well as physical disconnect, and this is often one of the hardest skills to master, particularly in our hyperconnected world.
Decide on your hours, or work to the ones expected of you by your company, and stick to them. Naturally, there will be times when orders come in thick and fast and you have to put in extra time. But this is not how a normal day should look. Make a note of those extra hours and take them back once the rush has died down.
One effective way to enforce a healthy balance is to schedule regular self-care, especially through activities – like exercise – that get you out of 'the office'. If you have a dog, walk it. If not, try to be disciplined and force yourself to leave the workplace, even though it's easier said than done.
How else can you give yourself permission to step away from work and into home life? I've already alluded to the most important answer: routine. Once certain activities become part of the end-of-day run-down, it becomes easier to convert those four walls from creative cage to a place of rest, relaxation, and family life.
Time to step away
Breathe deeply and give yourself half an hour before close of business to begin the winding-down process. This might start with writing tomorrow's to-do list or making a cup of tea and quietly reviewing the work that's been carried out during the day. It could involve organising a workspace ready for tomorrow's challenges or tidying up a desktop, virtual or physical. Anything that signals to the brain that it's time to slow down. Then, unplug. Shut down the laptop – don't be tempted to put it in sleep mode.
It can be tough transitioning from one state to another. Switching from work brain to home brain can take a while. This is when the home worker needs to be tough and say no to outside pressures begging for their time.
Take a shower, get a change of clothes, or read the paper with a cuppa. Creating time for deep breathing and meditation is also a helpful way of clearing the mind of any niggling doubts and anxieties from the workday.
Dream fulfilled
Working from home should be good for your health, not bad for it. Make sure to find time to stand back, take a breath, and enjoy the fruits of your labour.
Tips to wind down at day's end
Create a to-do list for tomorrow
Set an out-of-office email response
Switch off all technology, including your phone
Tidy your workspace
Go for a walk, run, or swim
Shower
Practise meditation or do mindfulness exercises to calm down
Take some time for yourself
Words: Caroline Pattenden
This article was originally published in Issue 19 – Global heart-warming