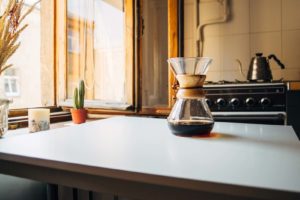 Small interiors need not be cramped, cluttered spaces. Here, we offer 10 tips to transform pint-sized homes into petite, peaceful palaces…
Small interiors need not be cramped, cluttered spaces. Here, we offer 10 tips to transform pint-sized homes into petite, peaceful palaces…
Small-space living inevitably means you'll end up with your furniture and personal possessions close by. While intimacy goes hand in hand with cosiness it can also lead to clutter and claustrophobia, so edit out items that you really don't want to be looking at on an everyday basis.
Make the most of natural light. A plentiful supply can 'enlarge' a small space, so embrace this and use rooms that are flooded with warm northern light for sociable activities such as lounging and entertaining. Areas that aren't blessed with natural light are ideal as bedrooms that aren't frequented as much during the day.
Don't feel restricted by a lack of space, just apply your own style, whether that be modern, vintage or boho. It's essential that you make your small home feel personal – remember it will work best if transposed in bite-size pieces. When choosing key items of furniture it helps to draw a rough floor plan – if in doubt, measure it out!
Maximise the potential of any defining interior features such as high ceilings, period detailing, exposed beams, alcoves, nooks or other architectural quirks to give your tiny space a big personality.
Being tidy is part of one's personal DNA. You're either naturally tidy and a serious advocate of the less is more principle or fall into the collect-all-sorts-like-a-magpie category. If you fall into the latter camp, invest in stylish storage solutions such as metal trunks, wicker baskets, pretty boxes and files to round up essentials in an orderly fashion.
Learn the art of decluttering! It's as much a psychological cleansing process as it is a practical one and even natural hoarders can benefit from a regular clear out. Getting rid of unwanted clutter can be cathartic and free up valuable space.
Use flooring to add interest. Stripped wooden floorboards can be painted and stencilled to create a design and style statement to a room, and rugs are ideal for adding a dash of pattern and colour and also for 'zoning' different activity areas, such as lounging and dining in an open-plan space.
Embrace pattern. Large motifs in small areas can have a huge impact, but they can dominate if the room is very tiny so keep to cushions, soft furnishings and accessories, or consider wallpapering the inside of a wardrobe or glass-fronted cupboard. In this way, you can have an occasional 'big bold pattern moment' as part of a calm interior.
Refresh a small space in an instant with a seasonal update. A change of sofa covers, throws or linens will give a new look and feel – earthy tones or subtle chequered patterns, say, for winter warmth or fresh, pretty pastel floral sprigs for summer. For the kitchen, update a basic all-white crockery set with a few new brightly patterned coordinating pieces.
. Use a design trick often implemented by hotels and create a play on scale in a small bedroom by adding a larger bed or luxuriously sized headboard to maximise the feeling of space and comfort.
This article was originally published in Issue 2, Breathe Magazine – Small Wonders.