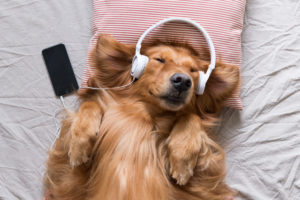 Now is the perfect time to introduce some audio joy into your life.
The rise in podcast popularity is because more people are taking an interest in personal wellbeing and they want to listen to something that allows them both to explore new information and switch off for half an hour. You only need to look at the number of podcasts that appear when you search with words such as 'wellbeing', 'mindfulness' and 'health' to see how many shows and discussions have been created to meet the demand of a society that is becoming increasingly conscious of the benefits of self-compassion.
Podcasts originally started to allow people to listen to radio shows and audio books in their own time – although they weren't officially called podcasts until 2004. Before the name was created, this type of media was known as audio blogging, and only a handful of people were tuning in, typically on an ad hoc basis. In the past few years, however, there has been a significant rise in their popularity – a 2017 consumer report from market research company Edison Research revealed that 24 per cent of people in the US listened to podcasts monthly compared to just 12 per cent in 2013.
In the middle of a commitment-filled, busy life podcasts offer the chance to listen and learn without having to focus your sole attention on anything specific. They sit somewhere between a TV show and a book and because you don't need to focus on anything visual, you can tune in wherever you like. They are a great invention for the multitasker because you can clean, cook, eat, drive, walk or exercise while listening to a podcast. And the right audio will always present an opportunity to switch off your mind from any thoughts or worries. Podcasts can bring some welcome respite – whether you're in the mood for laughing, crying or learning.
Society is increasingly fascinated by the workings of the human mind – how people can educate themselves to think more positively and live a more fulfilling life while also trying to understand more about the rise in anxiety and stress related conditions. Podcasts open up multiple avenues to do just that – right at your fingertips.
People don't always want to be faced with what appears to be an overwhelming choice in a bookshop or the number of shows available on TV or a streaming service. Podcasts are there to download on all smartphones, and once you've found a podcast you like, you can press subscribe so you can be alerted each time a new episode has been released. Before you've even listened to a podcast, it's likely that your wellbeing will have benefited from the lack of stress-inducing choice.
There are plenty of podcasts that can help to improve your wellbeing, but there is also a whole world of podcasts to explore depending on your mood and your curiosities. Each time you tune in you'll be switching off and giving your mind the chance to breathe in new information and forget thoughts that may be overwhelming your daily life. Whether you're feeling inquisitive, creative or in need of a laugh, podcasts can fit into your life whenever you need them, and will inspire your mind and rejuvenate your soul, bringing an extra measure of joy into your life.

Tune In
Some podcasts you may enjoy:
Walking The Dog. Well-loved stars talk about the weird, wonderful, funny and extraordinary things that have happened to them while walking their dog.
Courage & Spice. New podcast for those with self-doubt, by New Zealand-born coach and mentor Sas Petherick.
Super Soul Sessions. Oprah Winfrey helps listeners to awaken, discover and connect to the deeper meaning of the world. Interviews are with thought leaders, authors and health and wellbeing experts.
The Lively Show. This weekly podcast by Jess Lively, covering a whole range of health and wellbeing topics, uplifts, inspires and adds a little extra intention to your life.
Daily 10-Minute Meditation. A catalogue of over 100 meditations to help you relax and give your mind and body time to switch off from negative thought patterns, by coach Adrian Cooke.
This article was originally published in Issue 11 – The Art of Learning