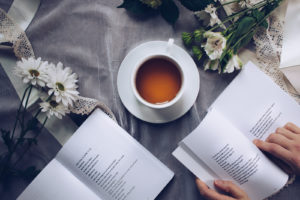 If you're interested in implementing some everyday rituals, there are a few things to try. Simple and mindful pauses are lovely ways to create daily moments of tranquillity – habits that keep you grounded and grateful when life gets busy.
With life becoming fuller and busier, it's easy to lose track of what you did from one week to the next. Moving through life on autopilot may seem like an effective way to get things done, but sometimes this means experiencing less joy while  carrying out daily tasks. Juggling too many things without the occasional pause may also mean missing the simple everyday moments that make life beautiful.
Mindfulness
It's good to practise mindfulness throughout the day. And the best thing about mindfulness is that it can be done  anytime and anywhere, be that standing in a queue, sitting at your desk or carrying out household tasks. All you need to do is focus on your breathing and by letting go of your thoughts you can fully connect with the moment. Every time a thought pops up simply let it go and gently guide your mind back to the breath. It's a great technique if you're  feeling the pressure of the day and would like to check in with yourself.
Another technique is to become aware of the sensations in your body. For example, your feet on the floor, your body in a chair or how your clothes feel against your skin. You could even try wiggling your fingers and toes or doing a few stretches, shifting your attention away from your mind and to your body and the present moment. And to go a step further it's nice to look around and appreciate the details of your immediate surroundings. This could include the view from your window – taking in the buildings, the trees, the sky. If you work at a computer this is a good exercise because it gives your eyes a rest from the screen.
Tea making
A lovely everyday ritual is to stop and make tea. Not only does it take you away from what you're doing but it also rehydrates and gives you something to taste. Being mindful of the senses is a helpful way to welcome us into the present moment. To make it even more of an occasion, while you're making a pot of tea, focus fully on the task and pause as it brews. It's a wonderfully calming process to break up the day, especially when it's shared with others.
Walking
A great exercise that changes your scenery, exposes you to light and fresh air and enables you to be more mindful – and if you're feeling stressed or overwhelmed it can gently ease the pressure, often bringing some perspective to the situation. A walk can be incorporated into a lunchbreak or become a morning or evening activity. Just getting up and walking around your building of work or your home can make a huge difference to your day. You may even wish to try mindful walking, which involves being conscious of the sensations of movement in your body and having a greater awareness of the world around you.
Reading
Many people love to get lost in a good book, and picking up a book or magazine can help you to slow things down. It could be argued that when a person is reading they are not fully present, but I think in a world of activity and non-stop technology it's valuable to spend time immersed in one pursuit. So, whether you take 15 minutes at lunchtime or use reading to unwind at the end of your day, it's a nice habit to make space for.
Meditation
Creating time to quieten the mind permits you to stop, relax and look inward. Having a few minutes of quiet can enable you to gain a better understanding of how you are feeling. If you're not sure how to approach meditation, there are many resources to help. You can find them online, in books or they can be downloaded to your phone. They range from guided sessions on relaxation to support with a whole range of things, there really is something for everyone. Meditation is a wonderful habit to introduce to your daily routine helping you to become a little more present in everyday life.
This article was originally published in Issue 7, Breathe Magazine – Renewed Light.