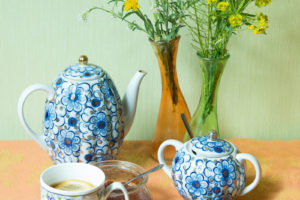 How adopting a mindful practise strengthens the mother-daughter bond.
There's something about the aroma of Earl Grey tea and the fresh dewiness of morning air that reminds me of my mum. And maybe if you were to sit and meditate on it there may be an olfactory memory, the taste of a hearty meal, or the warm touch of a certain woolly blanket that feels synonymous with your mum and your upbringing.
My mother was a 'working mum' for most of my childhood, which meant five dollars in a brown paper bag for the school canteen as opposed to homemade sandwiches and fruit for school lunch. But at the dawn of a new day, amidst the morning chaos, there would always be time for tea.
Before mindfulness was the buzzword that it is today, practising mindfulness in our family was somewhat of an accidental respite. A family of four females (five, if you include the dog) and one male meant a lot of sensitive individuals teetering on tenterhooks (read: tantrums). Taking time to slow down at the beginning of the day was always considered a welcome and necessary pause before the whirlwind we called life. Tea for mum meant savouring not only the taste, but the opportunity for silence and a moment to be wrapped in the warmth of a creature comfort.
Through use of our five senses, we recognise being in and ultimately connecting with the current moment – not rushing into the future with inaccurate forecasts or dwelling on what has been, but instead being here and now. It is not always sitting down to enjoy a cup of tea or your favourite meal, knitting a scarf or colouring-in – sometimes we practise mindfulness in less conventional ways.
As I ventured down the path of adulthood, moving from the family home and the familiar comfort of morning tea dates with mum, it was a mutual love of yoga that continued to strengthen our mother-daughter bond. The general basis of yoga is being. Being in the moment, with the breath, with the plethora of thoughts dancing in and out of consciousness.
Although our primary means to connect is through the spoken language, when practising yoga no words are spoken and the connection is felt as you flow from warrior to warrior.
Breathe sat down with Deborah Lowndes, mother of our resident yogi expert Madison White, to discuss how mindfulness and in particular yoga has reinforced their bond.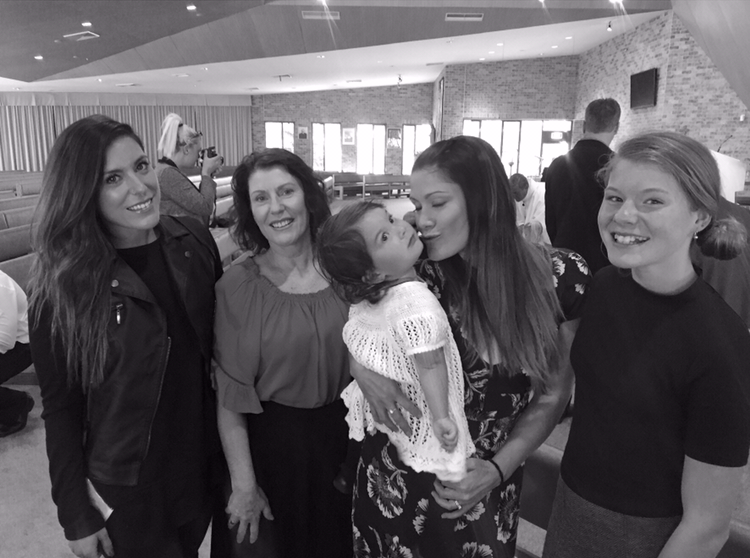 We know you like tea; what are some of your other favourite ways to slow down and breathe?
Reading while having a cup of tea! There is nothing I like more than delving into the pages of a book, where an exciting world awaits me.
We are told time after time that practising mindfulness is good for our health. As a mum of three girls, how important is it to make time for yourself during the day?
The day you become a mum a switch is flicked and you are constantly on. This little in-built mechanism ensures you are always at the ready for the endless requests of children, and all the other things that being a mum, wife/partner and friend encompass. Taking time out will help reset that mechanism to ensure you maintain healthy and balanced relationships with yourself and everyone around you.
What was it about yoga that kept you coming back?
Yoga has a secret pull; it starts slowly but soon you can't remember a time that it wasn't a part of your life. I also love the clarity it provides. As a mum you have a lot to think about and remember in a day, yoga has helped me sort and filter and find a little spot of tranquillity in the mayhem!
Do you think yoga brought you and Madison closer together? Why?
Definitely. It was 'our mummy and middle child time'. We didn't need to talk throughout our practice to enjoy the closeness, so it was just being in the room, being on the mat right next to each other.
Yoga promotes harmony between people – would you say yoga has helped maintain harmony in a family full of unique personalities?
Practising yoga has given me a sense of calm and inner peace, and has allowed me to change the way I react to situations – in a more thoughtful and positive way. I have people comment that I have a calm about me that they can sense. I can only attribute this to yoga as it certainly wasn't there years ago when I was bringing up three teenage girls!
Aside from yoga, what other mindfulness activities would you recommend for mothers and daughters?
Anything involving shared experiences. Going for a walk together and noticing the world around you, having a massage together and drifting off in silence, or just quality time spent together. The perfect activity is one you can look back on and remember the special time you shared together.
In an era where we are told to be more, do more, go faster and spend more, dedicating time to slow down and smell the tea can feel like the antithesis of efficient living. Maybe it's tea with mum, yoga with mum or simply sitting down for a chat. The amplified connection brought on by practising mindfulness is felt because in that moment, you are in that moment.
Happy Mother's Day to all our Breathe mums and mums to be out there.