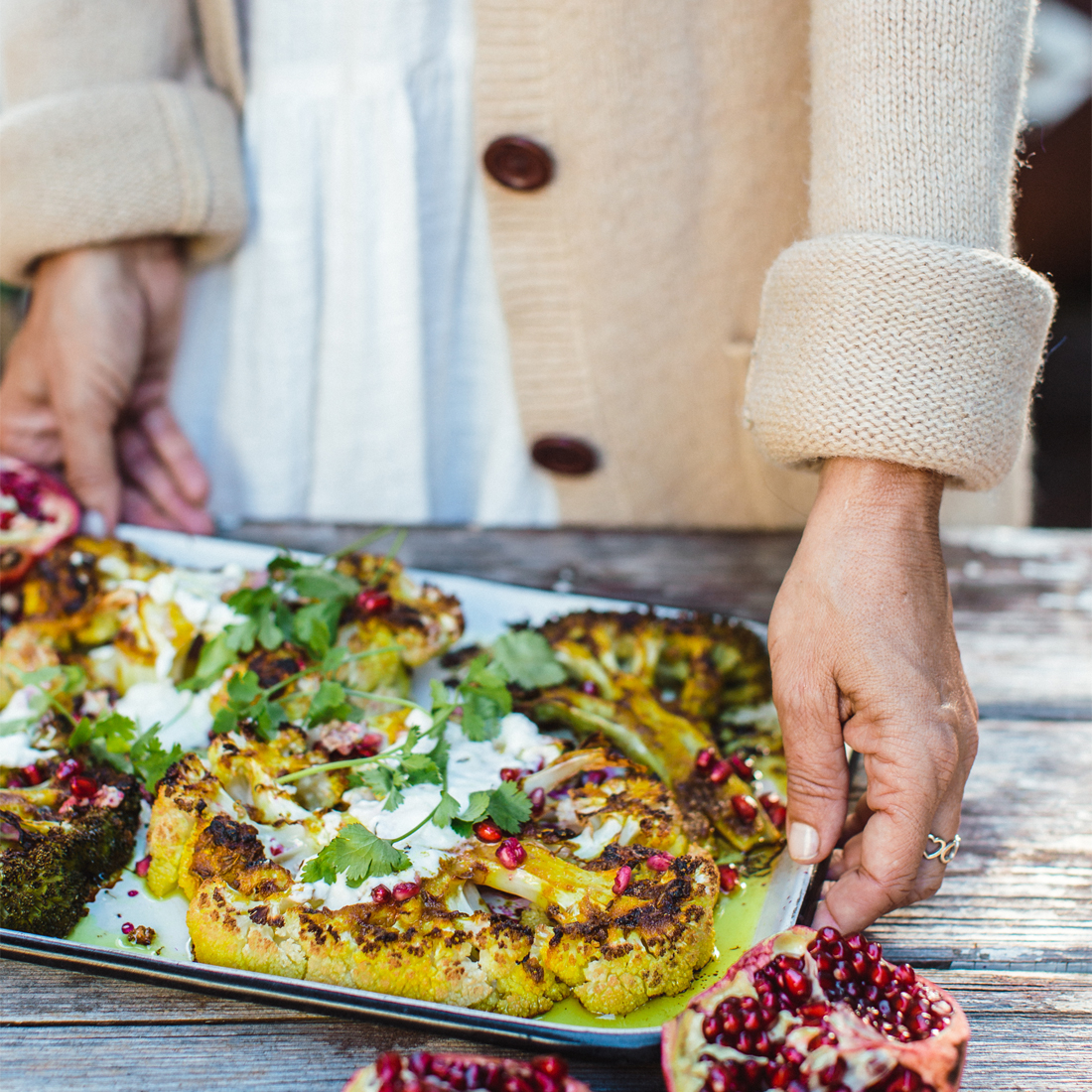 This satisfying and nourishing dish from Lee Holmes is perfect as a side, or even the main event
Serves 4
2 tablespoons extra virgin olive oil
3 garlic cloves
2 tablespoons lemon juice
1 teaspoon cumin seeds
1 teaspoon ground coriander
1 teaspoon garam masala
½ teaspoon ground turmeric
2 tablespoons nutritional yeast flakes
sea salt and freshly ground black pepper, to taste
1 small head cauliflower, cut into 4 thick slices
1 head broccoli, cut into 4 thick slices
Sheep's Yoghurt, to serve
Pomegranate, to serve
Small handful coriander (cilantro) leaves, to serve
Sheep's Yoghurt Dip
1 large pomegranate
520g full-fat plain sheep's milk yoghurt, chilled
2 spring onions (scallions), finely chopped
Small handful coriander leaves, finely chopped, plus extra sprigs to garnish
Pinch of sea salt
1/4 teaspoon ground cumin
1 tablespoon lemon juice
Mint sprigs, to serve
Method
Preheat the oven to 200°C (400°F) and line a baking tray with baking paper.
In a small bowl, combine the olive oil, garlic, lemon juice, cumin seeds, ground coriander, garam masala, turmeric, yeast flakes, salt and pepper.
Lay the cauliflower and broccoli slices on the prepared baking tray, and brush with the spice mixture, turning over to coat both sides. Bake for 20–30 minutes, until tender. Set aside to cool.
Cut the pomegranate in half and gently scoop out the seeds in segments, being careful not to break them. Pull the seeds off the yellow pithy membrane.
In a medium bowl, combine the yoghurt, spring onion, coriander, salt and cumin, and mix well to combine. Add the lemon juice and check the seasoning. Gently fold in the pomegranate seeds, reserving some for a garnish. Transfer to a serving bowl, then garnish with the reserved pomegranate seeds.
Transfer the 'steaks' to a plate, top with sheep's yoghurt dip and garnish with the coriander leaves to serve.