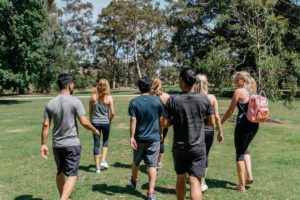 St Kilda Botanical Gardens
Sunday 18 February - 9:30-10:30am
Walking for mindfulness and mental health.
Sunday 18 February, 9:30-10:30am
St Kilda Botanical Gardens.
Enjoy a morning of mindful walking whilst helping to support mental health at a charity event like no other. Instead of racing to the finish line as we often do in day-to-day life, the Mindful Walk will encourage you to slow down and reconnect with yourself and your surroundings.
Your morning will start with a short meet and greet to chat about 'mindful walking', what it is and how to do it. From here you will be guided through a 30-minute silent walk around the Botanical Gardens, where you will encounter a variety of mindful triggers to help you become present in your surroundings.
These triggers will include a range of sound sensations to treat your ears and still your mind. After the walk you will be invited to relax in the Lululemon chill-out zone to enjoy some live music and a selection of goodies including refreshments from Impressed Juices.
Whilst parents walk in silent bliss, the Mindful Walk experience will also be open to children four years and over to enjoy a kid's mindful yoga class hosted by Little Warriors. Little Warriors Yoga specialise in teaching children the benefits of yoga in fun, engaging classes.
The physical and mental benefits of yoga help manage the stresses and emotions that go hand in hand with growing up, and encourage children to focus on their mental wellbeing as well as their physical fitness from a young age. All Little Warriors classes are aimed to help kids leave feeling more refreshed, connected, relaxed and better equipped to be happy and confident little human beings.
No prior mindfulness experience is necessary to enjoy this event, only a willingness to feel more connected to yourself, others and nature. In helping your own mental wellbeing, you will also be helping others with all profits being donated to Livin to support their work in mental health. Wear comfortable clothing, walking shoes and bring plenty of sun protection.
Registration is open until 3pm on Saturday 17 February or until sold out. You can purchase tickets here.
Visit www.mindfulwalk.com.au and www.littlewarriorsyoga.com.au for more information.