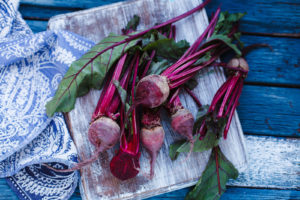 Beetroot Barley Risotto recipe to delight the senses.
Nothing beats the sounds and smells of a farmers' market and the freshness of locally grown seasonal produce.  Resident Breathe Magazine foodie, Michelle Fraser, shares her recipe for beetroot barley risotto.
Gorgeous bunches of organic new season beetroot caught my eye at our local farmers' market on the weekend. Then I spotted some freshly-made smooth and tangy labneh – a perfect pairing for a beetroot pearl barley risotto topped with fresh labneh and crispy sage leaves! You can substitute basil for sage, feta for labneh or even use dried sage in the recipe and top with roasted walnuts.
Beetroot Barley Risotto with Labneh and Crispy Sage Leaves
Serves 4 (or 8 as an entrée)
Takes approx 1 ½ hours (including roasting of beetroot)
Ingredients:
1 bunch of fresh beetroot
1 leek, white part only, finely sliced
1 tbs olive oil
4 tbs butter
1 tbs finely chopped sage leaves
1 tbs thyme leaves, removed from stems
1 ½ cups raw pearl barley
½ cup red wine
1 cup fresh orange juice
1.25 litres vegetable stock
salt and pepper to taste
¾ cup lightly packed grated parmesan
160g labneh (or feta)
whole sage leaves
rocket leaves
1 tbs balsamic vinegar
1 tbs olive oil
Method:
Chop tops and tails from beetroot, cover with foil and bake at 190C for 55 minutes or until tender, peel when cool enough to handle then slice into 2cm cubes. Set aside.
Heat stock in a small pot and keep warm on low heat
Put a large frying pan over low heat, add the oil and then 1 tbs of the butter. Add the sliced leek and sauté gently until softened
Add the chopped sage and thyme leaves and cook, stirring for a further minute
Turn heat up to medium and add the pearl barley to the pan. Stir constantly over the heat for a minute or two
Add the wine to the pan and cook until reduced
Add the orange juice and cook until reduced
Add one cup of the stock and turn the heat down to low. Make sure all of the barley is just covered and allow to simmer gently
Keep adding stock to the risotto, one ladle at a time as the barley absorbs it, until the barley is tender but still has a bit of bite in it. You might not need all of the stock. Stir once or twice throughout the process to make sure the barley cooks evenly
While the risotto is simmering, fry the sage leaves in 1 tbs of butter in a small frying pan until crispy and slightly translucent then set aside on paper towel
Add the beetroot cubes to the risotto and stir until warmed through
Season to taste with salt and pepper, keeping in mind that parmesan and labneh are yet to be added
Take the pan off the heat and add the rest of the butter and the Parmesan cheese and stir until combined
Toss the rocket through the combined balsamic vinegar and olive oil
Serve risotto on dressed rocket topped with labneh and crispy sage leaves
Find more delicious and wholesome recipes in Issue 2, Breathe Magazine – Small Wonders.  You'll love Yoga Kitchen's Matcha, Lime and Coconut Energy Balls. You'll also meet meteorologist and journalist, Magdalena Roze, who shares her recipe for Blueberry Crumble Buttermilk Muffins, along with the story of her inspirational sea change and how it led to the release of her lifestyle cookbook, Happy & Whole.